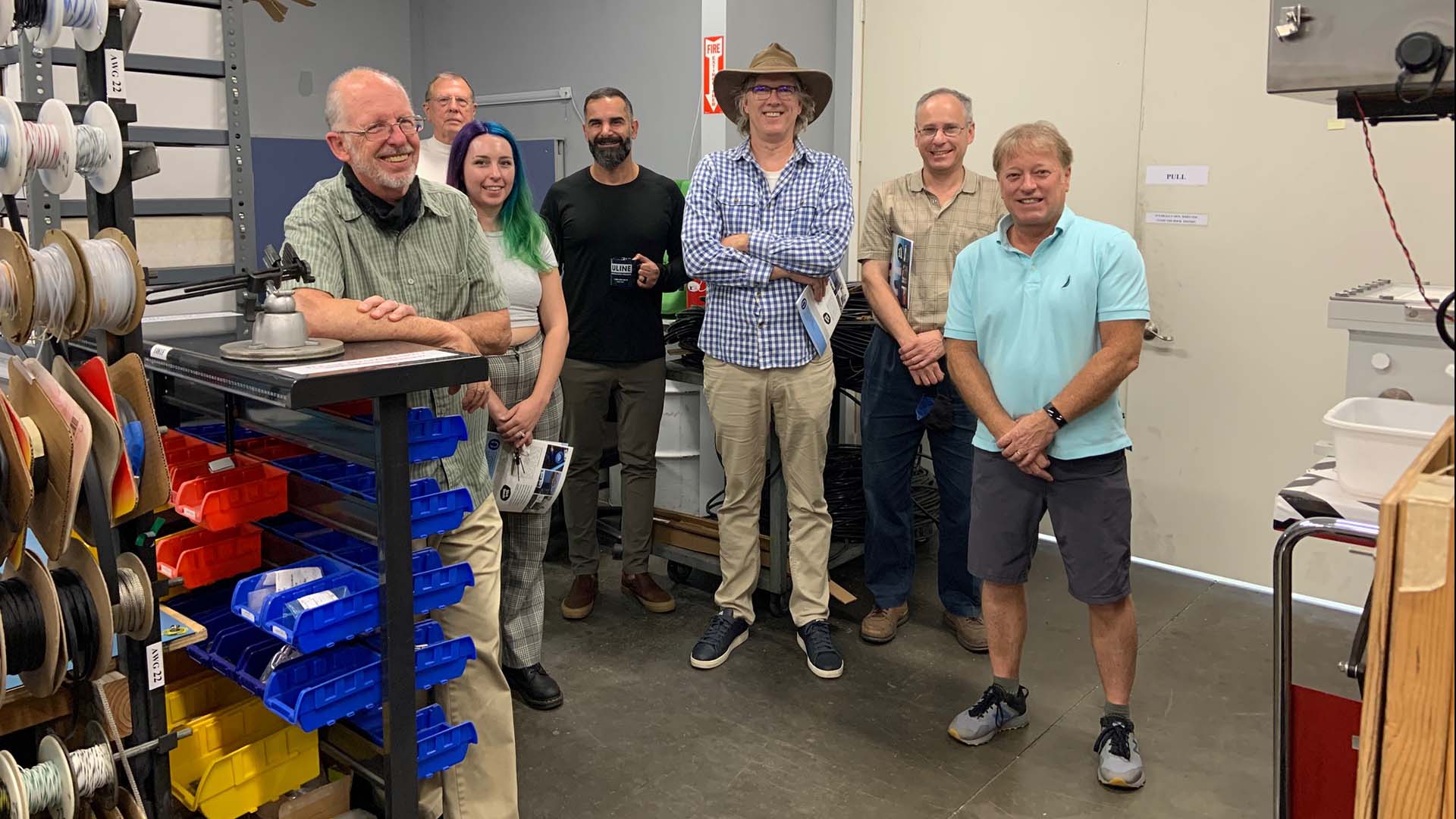 Researchers and alumni with the firm InterOcean Systems aim to develop sensors that use ultraviolet light to pick up traces of oil on the ocean surface.
By Sarah White
As the recent Orange County oil pipeline leak continues to damage Southern California beaches and ecosystems, an interdisciplinary team of San Diego State University researchers and alumni are creating tools to identify early signs of offshore spills.
"The goal of reliably detecting oil spills as rapidly as possible is important in being able to reduce the environmental adverse impacts," said chemistry professor Dave Pullman.
"This spill in Huntington Beach we couldn't have necessarily prevented, but we could have made the warning much earlier so they could have responded earlier," said Chris Chase ('97, '13), business development manager for San Diego-based InterOcean Systems.
InterOcean Systems is collaborating with Pullman and Matt Anderson, a physics professor, to develop new sensors that will quickly detect oil on the ocean's surface from high above the water.
Many existing oil spill monitoring systems placed on oil rigs, pipelines, and refineries require direct contact with the water and oil to sound the alarm and elicit a response.
Instead, the SDSU team's new iterations on the first non-contact oil spill monitoring technology use ultraviolet light bouncing off of surfaces to detect spills. This has big advantages in terms of maintenance and ease of use when remotely monitoring pipelines miles offshore.
Imperfect solutions
Currently, InterOcean Systems' devices are only accurate up to a distance of 10 meters, or about 32 feet, above a water source. With some oil rigs towering multiple hundreds of feet above the waves, operators have had to rely on imperfect solutions like infrared cameras mounted on airplanes, if they have remote monitoring systems at all.
But these visual detection methods cannot always tell the difference between an oil spill and something else above the surface, such as a large tangle of kelp or clouds. This confusion can cause delays between first spotting a possible spill and initiating cleanup action.
The new iterations of detectors that Anderson and Pullman's team are prototyping could detect oil in the span of seconds of it reaching the water's surface, leveraging the chemical properties of oil to sound the alarm for spills much faster.
Ross Keyashian, a master's student contributing to the project while also working full-time, is cataloging the variety of wavelengths and intensities of fluorescent light emitted by both crude oil and more refined oil products in response to ultraviolet light.
"This will help optimize the sensors for different sites depending on the kind of oil that they want to detect," said Pullman.
All of the potential locations these sensors could be placed present myriad challenges. "If you have a detector at an oil rig, and Styrofoam floats by, it'll fluoresce. How to account for that is part of our research too," said Pullman. "If we understand the fluorescence properties, we can distinguish oil from false positives."
And if that rig is in the North Sea off of Norway? "We have to dodge rogue waves that can get up to 30 meters tall," said Kayla Holder ('19), a graduate student in Anderson's lab with hair as multi-colored as an oil slick. She has been testing a scaled-down version of the new detection system and determining the pros and cons of various light sources and lenses.
Next steps
Part of the team's next steps are to optimize the sensors to work 24 hours, day and night, while also filtering out UV light from the sun and changing ambient light conditions. The goal is to have the sensors eventually run off of solar power and require as little electricity as possible. Future versions could be explosion-proof and even function underwater, closer to pipelines.
Thanks to the collaboration between chemistry and physics, the new sensors will "have greater range, higher accuracy and detect all the different types of oil products," said Chase. "Basically it's a significant improvement on any existing methods for remote detection of and monitoring of oil spills."
"I think it's a very exciting opto-electronics challenge and if we can satisfy the requirements and ultimately end up helping to protect the world's oceans, that's going to be extremely rewarding," said Anderson.
Team members in top photo, from left to right: Steve Van Bibber (IOS and alumnus), Christian Winther (IOS and alumnus), Kayla Holder (alumna and master's student), Ross Keyashian (master's student), physics professor Matt Anderson, chemistry professor Dave Pullman, Chris Chase (IOS and SDSU alumnus)