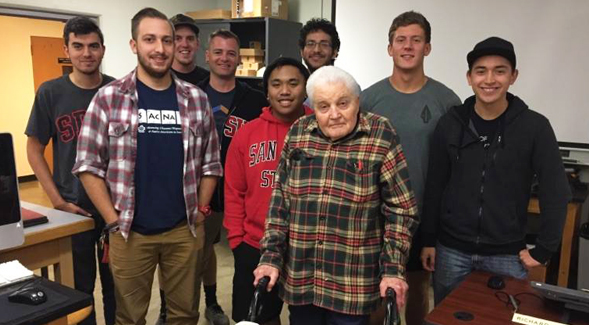 Former colleagues and students look back on the 60-year teaching career of Richard "Doc" Morris.
By Jeff Ristine
"If I have a legacy," Richard "Doc" Morris said near the end of a phenomenal 60-year career teaching physics at San Diego State University, "I'd like it to be that he did his best to teach us to think."
"That's probably the most important thing any instructor can give to a student," Morris said. "If he can walk out or she can walk out with some ability to think critically, they might just save the world."
Morris died on Oct. 19 at a hospital in La Mesa of complications from influenza. He was 89.
Among the hundreds of students who passed through the Morris lab was Ellen Ochoa ('80), who went on to become an astronaut and fly on four Space Shuttle missions.
"He taught us how to document our work—important in the scientific method so that others could duplicate it—how to analyze the data we collected and how to account for errors inherent in the process of measurement," said Ochoa, who retired in May after five years as director of NASA'S Johnson Space Center. "He was clearly dedicated to his craft and his students."
Under Morris, Physics 357 was known as the toughest lab in the upper division of the department. Officially titled Advanced Physical Measurements, it was referred to by some as "Advanced Physical Pain."
"I'm convinced now that the best thing you can do for a student is give them a really hard course," Morris said in a 2012 interview. "I like the students, and I like to see their devotion and their refusal to give up even if things don't work."
But it was Morris's devotion that students remember. By all accounts, he never lost the ability to relate to undergraduates whose grasp of the subject was far below his own, and to help guide them to a higher level of understanding.
"Doc could easily forget to breathe for three hours, and that's what I loved most about him," said Miguel Correa, who credited Morris with his decision to go to graduate school and make physics a lifelong career. "He was one of my biggest inspirations to keep an open mind and remain curious."
Another doctoral student, Grant Varnau, said Morris "made each and every one of us a better scientist and person." When Varnau once jokingly asked if Morris would serve as a surrogate grandfather, "he laughed and smiled at me and said he would be honored—as long as I could pass his lab."
For all students, his expectations were high. Lab reports were assigned at 15 to 20 pages. Students approaching Morris with questions about the material he was teaching said he typically responded by telling them how they could find the answer on their own.
Physics department chair Usha Sinha said his afternoon lab course would routinely stretch hours past its scheduled three-hour time, sometimes not ending until dark. It was an excruciating experience for some, but Sinha said students tend to remember it as "the best training they had."
Morris retired in 2010 and entered the Faculty Early Retirement Program (FERP), but only reluctantly. While it allowed him to continue his passion for teaching, Sinha said Morris was unhappy about its five-year time limit.
When that period was up, Morris continued to return as a volunteer, teaching the 357 lab and directing senior research projects. He remained undergraduate advisor through 2016.
"For the last three years he was teaching for free," said longtime colleague Gordon Shackelford, a physics lecturer. "It's a dedication you just rarely see…beyond the rational level of dedication."
By the time Morris left SDSU at the end of the fall 2017 semester, he had taught at the institution for nearly half its 121-year history.
The physics department, for now, has left his old third-floor office nearly untouched in the rear of his lab. Its condition reflects a needlepoint sign he kept there that reads "A clean desk is the sign of a sick mind." The piles of material he kept there include a 2009 course catalog and a 1995 buyers' guide for optics equipment; his desk also has an all-but-obsolete laserjet printer and a gooseneck lamp.
Richard Herbert Morris was born Nov. 22, 1928, in Oakland, California. He earned his undergraduate and Ph.D. degrees at the University of California, Berkeley, and married the former Barbara Norris in 1956. He worked at the Berkeley facility founded as the Radiation Laboratory, an international center known for its research in physics and now named the Lawrence Berkeley National Laboratory.
His first teaching assignment was at Sacramento State College in 1956, and he joined the faculty of what was then San Diego State College a year later. It was just weeks before the Soviet Union's launch of Sputnik, the first artificial Earth satellite, an event that shocked a complacent United States into making a higher priority of mathematics and science education, including physics.
San Diego State's physics program, at the time, was the largest on the West Coast, Morris recalled in 2012; it included classes that would now be thought of as part of an electrical engineering program.
As was typical of instructors of the era, Morris remained focused on teaching and had no large research grants to his name. It was to his credit, however, that the physics department in 2012 received a $300,000 gift from Cymer, a San Diego-based tech firm, to expand and update the Morris lab.
Morris's dedication to the university was thoroughly supported by his wife. Barbara Morris was known to bring coffee and cookies to graduate students during particularly rigorous exams.
In addition to his wife, Morris is survived by a son, William, and his wife, Lisa Heizer; a daughter, Katherine Vockrodt, and her husband, John; and two granddaughters.