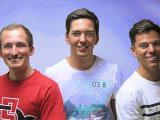 SDSU welcomes three new graduate students to the Math Dept from Ulm, Germany. Ludwig Siegert, Marc Schneble, and Maximillian Autenrieth are on campus as foreign exchange students working on their master's degree in mathematics. Ludwig, Marc and Max are GTA's in the Math Dept. They were recently interviewed and asked to provide a little insight to their background and life here on campus. Here's their reply.
LUDWIG SIEGERT: I finished my undergraduate study in mathematics and management at the University of Ulm in Germany and continued with a master's degree in the same area of studies. I appreciate the opportunity to continue my studies at the SDSU in the next year. The SDSU is accepting students with a mathematical background from Ulm for years and I am glad to participate in this exchange program that led me to the SDSU. After completing my graduate studies at the SDSU I plan to go back to the University Ulm to finish my master's degree there.
My interests in mathematical topics have a wide range, from topics in numerics, over optimization and graph theory to insurance related topics. I try to get insights in many different areas of mathematics, to broaden my knowledge and gain insights in many different topics. Here at the SDSU, I can hear courses in various areas that enrich my mathematical knowledge.
I'm very grateful to receive the Presidential Graduate Fellowship and a scholarship from Talanx Foundation. With this help, it became possible for me to attend the SDSU.
MARC SCHNEBLE: The last five years I was studying mathematics and management at Ulm University in the south of Germany – thereof, three years in the undergraduate program and the last two years in the graduate program. I began early to deepen in actuarial sciences and probability theory obtaining profound knowledge in insurance mathematics/economics and stochastic processes. My master's thesis covered a stochastic capital market model and one of its applications in life insurance.
To attend more applied classes I chose the graduate statistics program at San Diego State University. In particular having knowledge in applied statistics is essential for an actuary which is my desired profession. This semester, I'm attending three courses (STAT 580,673,700) plus a seminar. In all of them the main objective is how to apply the theoretical knowledge learned in the lecture with the statistics software R.
I'm funding my studies at SDSU being a teaching assistant for STAT 250. Therefore I'm the instructor for two lab sessions and am offering office hours in the statistics learning center. Additionally I'm grateful to have received a Fulbright Grant and a Presidential Research Graduate Fellowship from SDSU. In order to receive my master's degree in statistics at SDSU, I'm writing a thesis in the area of climate research. After having graduated next year, I will go back to Germany and pursue the aim to make a PhD at Ulm University.
MAXIMILLIAN AUTENRIETH: In general, I was always fascinated of detecting logical conclusions under given conditions and assumptions. Therefore, I did my undergraduate study in mathematics and management at the University of Ulm in Germany and I have almost finished my master degree in mathematics and management. Participating in the exchange program of Ulm University, I chose to attend SDSU, since my one-year program in San Diego not only allows me to achieve both, the American and German master's degrees, but it rather gives me the opportunity to gain highly valuable experience and deep insights into the field of statistics and the practical analysis of data. In the context of data science, the versatile applicability of statistics and stochastic models caught my interest. In particular, the development of machine learning algorithms and hereby the detection of existing and prediction of further patterns allow intriguing opportunities.
I'm very grateful to receive a Fulbright Grant, the Presidential Graduate Research Fellowship from the SDSU and a scholarship from the Foundation of German Business (sdw). Thereby, in conjunction with my Teaching Assistantship at the Department of Mathematics and Statistics, my stay at SDSU was made possible. In addition to my academical education I consider the year in California related with the immersion in the local culture as a significantly enrichment of my personal development.
After my year in San Diego, I am planning to earn my master degree in mathematics and management and my goal is to pursue a PhD or to apply my study in an international operating company.