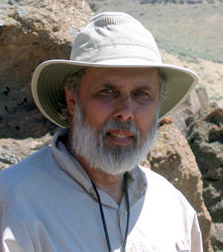 Taking the Road Less Traveled
The San Diego State University Geology department has secured a legacy gift from College of Science and Geology professor, Victor Camp and his wife Jean, making an impact that will be felt for many years to come. Dr. Camp and his wife have strong feelings toward learning and education. For them, it made sense to donate to SDSU because they are part of the community. They feel learning for the sake of learning is important because "the more students learn the more they want to learn," said Dr. Camp.
Dr. Camp didn't follow the beaten path most faculty are familiar with. After graduating college, Vic traveled Iran, Saudi Arabia and Africa, working in locations where geology wasn't known and in regions that hadn't been worked on yet. Going into the field allows him to take an area of the Earth and reconstruct its' history geologically by going back through time. In doing so, he learns something new about the history of our planet. He has been to New Zealand, Africa, the Middle East and many other locations and says he has enjoyed every one. "Every place has its own geologic culture," Camp said. "I don't think there's anywhere I've been that I didn't actually like on its' own level."
He is appreciative of his experiences and the chance to share his travel stories with his students. His favorite thing about college was going out in the field, an adventure he now gets to share with his own students. Dr. Camp originally was a music major, however Intro to Geology changed his mind and the path of his future. Dr. Camp's passion is studying geologic formations in hopes of learning more about how the planet works. Being able to share that information with his students and the geological community through his publications is a great accomplishment. His most recent publication details his works at the Columbia River basalt province. He has also recently produced How Volcanos Work, a website for teachers, which receives approximately 2,000 hits per day.
Dr. Camp received his Ph.D. at Washington State University in 1976. He previously worked for the United States Geological Survey, followed by 10 years oversea as an Assistant Professor in West Africa (University of Ibadan) and as a field geologist in Iran and Saudi Arabia. Dr. Camp became an Adjunct Professor at SDSU in 1988, and a full-time lecturer at SDSU in 1993.
"I will always feel a greater sense of purpose in teaching. Field and research experiences form an important component to both learning and teaching," said Dr. Camp. "Overall, I think my greatest accomplishment at SDSU is in teaching the many thousands of students that have passed through my upper division general education course in Natural Disasters. I have always felt that that course covers material that will be useful to all students at some point in their lives, and hearing such comments from past students makes me feel good that I have made a difference in their lives."
Dr. Camp plans to eventually retire from SDSU. Before doing so, he and his wife decided to set up a scholarship for College of Science/ Geology. They have designated SDSU as a beneficiary in their trust to help other Geology students find their own way off the beaten path.