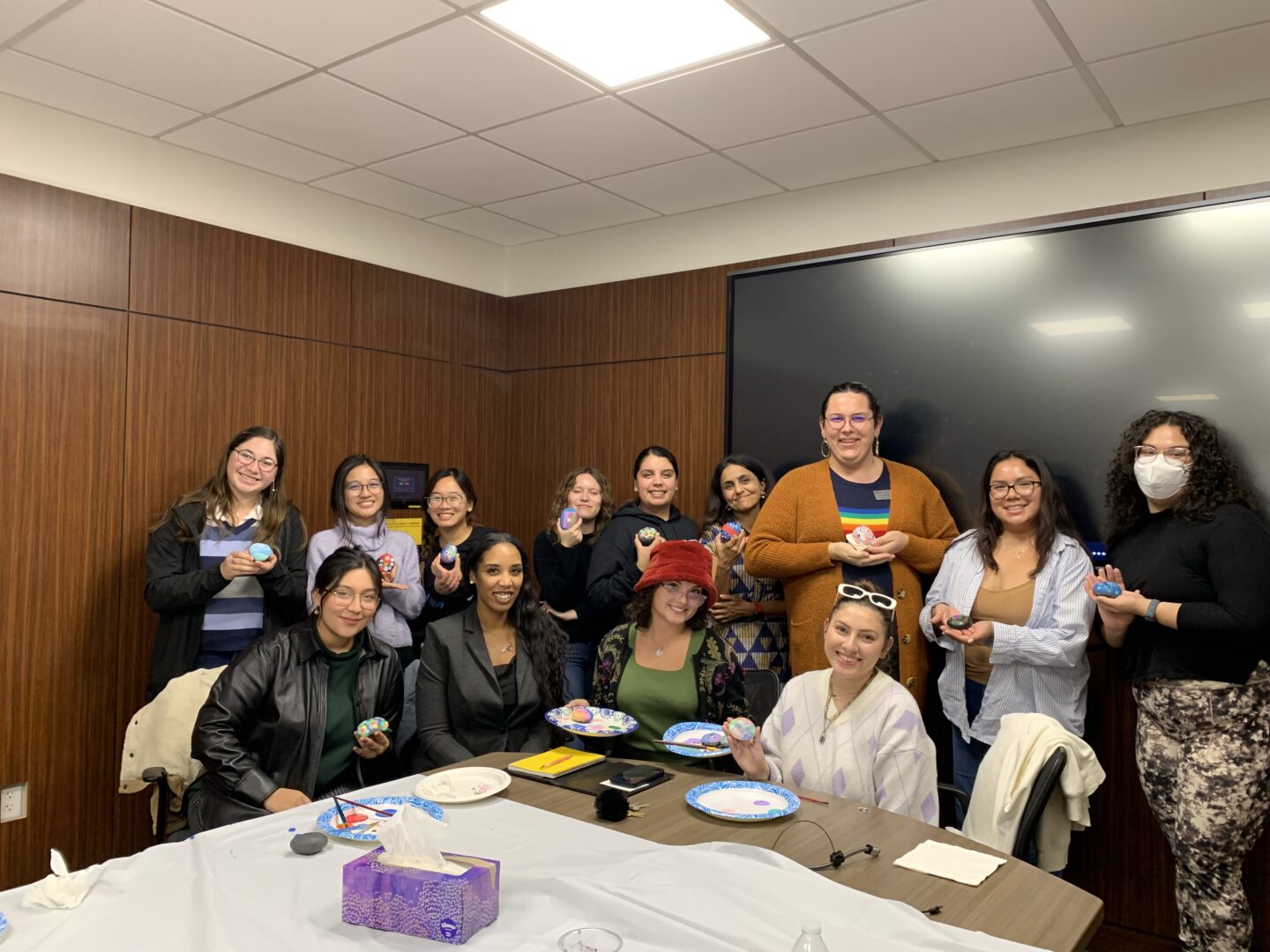 Daniela Narvaez might not have majored in a science, technology, engineering and mathematics discipline as an undergraduate, but she understands what women in STEM programs face on a daily basis. 
"I am an immigrant and a first-generation student, and I put myself through school and didn't have access to resources as a woman of color in my major even," said Narvaez, who was born in Guatemala and raised in California and Texas. "I see these battles that women and those who identify as women and gender-expansive students have to face in STEM programs, and I think I'll just be able to be a really good source of support for students to come to for whatever they need."
Narvaez, who graduated from San Diego State University in 2022 (International Security and Conflict Resolution), is the STEMinist coordinator at the Women's Resource Center. Her position began in the fall semester as part of the California State University STEM VISTA (Volunteers in Service to America) program, a yearlong national service opportunity in which volunteers use their knowledge and talents to support STEM students. 
STEM VISTA projects focus on eliminating race, class, and gender disparities in STEM undergraduate programs.
Narvaez serves as a liaison for the Women's Resource Center and departments across campus, learning what support services students might need directly from the departments that serve them. 
The departments "know what the students need and want, so I can find out what is lacking in terms of STEM support services," Narvaez said. "By tying everyone together we can create a better support system for our students." 
SDSU support services for STEM students include:
Narvaez's primary duty is hosting a support group for women in STEM majors, during which she listens to students and leads discussions on a number of topics, including gender and science, how to navigate sexist microaggressions, and resources available to help students prepare for interviews, among others. At a Dec. 1 support group meeting, the group will make self-care kits, do face masks and have tea as a way to prepare for finals.
The ultimate goal of the support group is to increase graduation and retention rates in SDSU STEM majors. 
Last year, 1,278 of the 2,712 degrees conferred in the College of Science and College of Engineering were to women, and of those, only 585 were underrepresented minorities, according to statistics from SDSU Analytic Studies & Institutional Research.
"Our space has been filled with so many students in STEM eager to create new friendships with others in STEM," said Narvaez. "The support and discussions so far have been so amazing, and I think students have really appreciated support from one another.
"The work is really important," Narvaez added. "We will be cultivating and sustaining a sense of belonging, which many students feel isn't present for them. Hopefully, this will lead to more female STEM students sticking with their majors and graduation, because they will feel that they have a safe space and a community that supports them."
Ella Leeb, a first-year psychology major, said the program helped her prepare for what's to come in her career.
"I've found a great community through these support groups," Leeb said. "The activities have also made me gain a new insight into what women in STEM have to face and overcome in their respective industries."
Leeb said the topic that touched her the most was dealing with the stigmatization that women face in STEM fields. 
"It's one thing to hear about offhand experiences and generalized stereotypes from people, but to hear specific, firsthand instances of discrimination from people you're speaking to in person really allowed me to gain perspective on the microaggressions and outright sexism women are still facing," Leeb said. "I think it's important to talk about it and bring awareness to the very real and prevalent issues women still experience in male-dominated spaces."
Testimonials such as Leeb's make Narvaez feel the support group is on the right track. 
"I've been so grateful for the support and safe space that I've been able to provide them when they discuss their experiences so far in STEM as well as helping them navigate difficult experiences," Narvaez said. 
To learn more about the Women in STEM support group events, visit the Women's Resource Center website at https://sacd.sdsu.edu/womens-resource/programs-and-events
Originally published on SDSU NewsCenter by Aaron Burgin