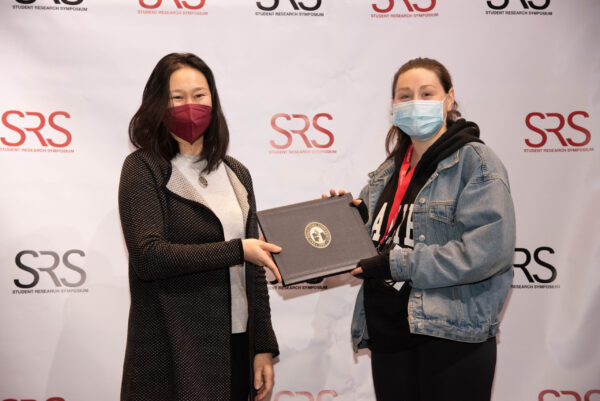 With rain pouring down outside the Conrad Prebys Student Union, Samantha Tasman, a senior psychology major at San Diego State University, nervously awaited the start of the 2022 Student Research Symposium, stealing glances out the small second floor window. She was the first of several students in her lab to give a talk and had never given a formal research presentation to an external audience.
Once the moderator gave her a signal to begin, Tasman calmly narrated the importance of her project examining the effects of prenatal exposure to nicotine and THC in rats. In her South African accent, she explained how she measured the rats' motor development in their first two weeks of being born, a task she had recently been assigned to lead.
Encouraged by a few nods from her advisor, Dr. Jennifer Thomas, Tasman answered questions about the implications of her surprising findings that prenatal drug exposure both delayed and advanced typical hindlimb coordination in rats, depending on dose.
"I just tried to enjoy it and share how excited I was about the research," Tasman said, but she did not feel entirely confident with how she had responded to some of the follow-up questions from the audience. "For the past couple years, people have presented from the lab. Each year, someone wins an award and I didn't want to ruin the trend."
The next evening at the award ceremony, her name popped up as one of the winners of the Undergraduate Research Excellence Award. Tasman was shocked.
"You always go a bit harder on yourself than others do. So it was rewarding when all my hard work was recognized," Tasman said. "It was just the best feeling. I felt very proud to represent my lab. And they were definitely proud."
"I definitely didn't think I would enjoy it as much as I did. It's exciting to know you're part of something bigger and you're helping the world gain more knowledge."
Recognition Round-Up
Over 150 College of Sciences undergraduate and graduate students shared their own talks and posters with the campus community and industry partners during the two-day Student Research Symposium.
Project topics included how circuits could work at the quantum level to how robots plan their motion through crowds, and examining correlations between where someone lives and how biased they might be against Native Americans and Asian Americans.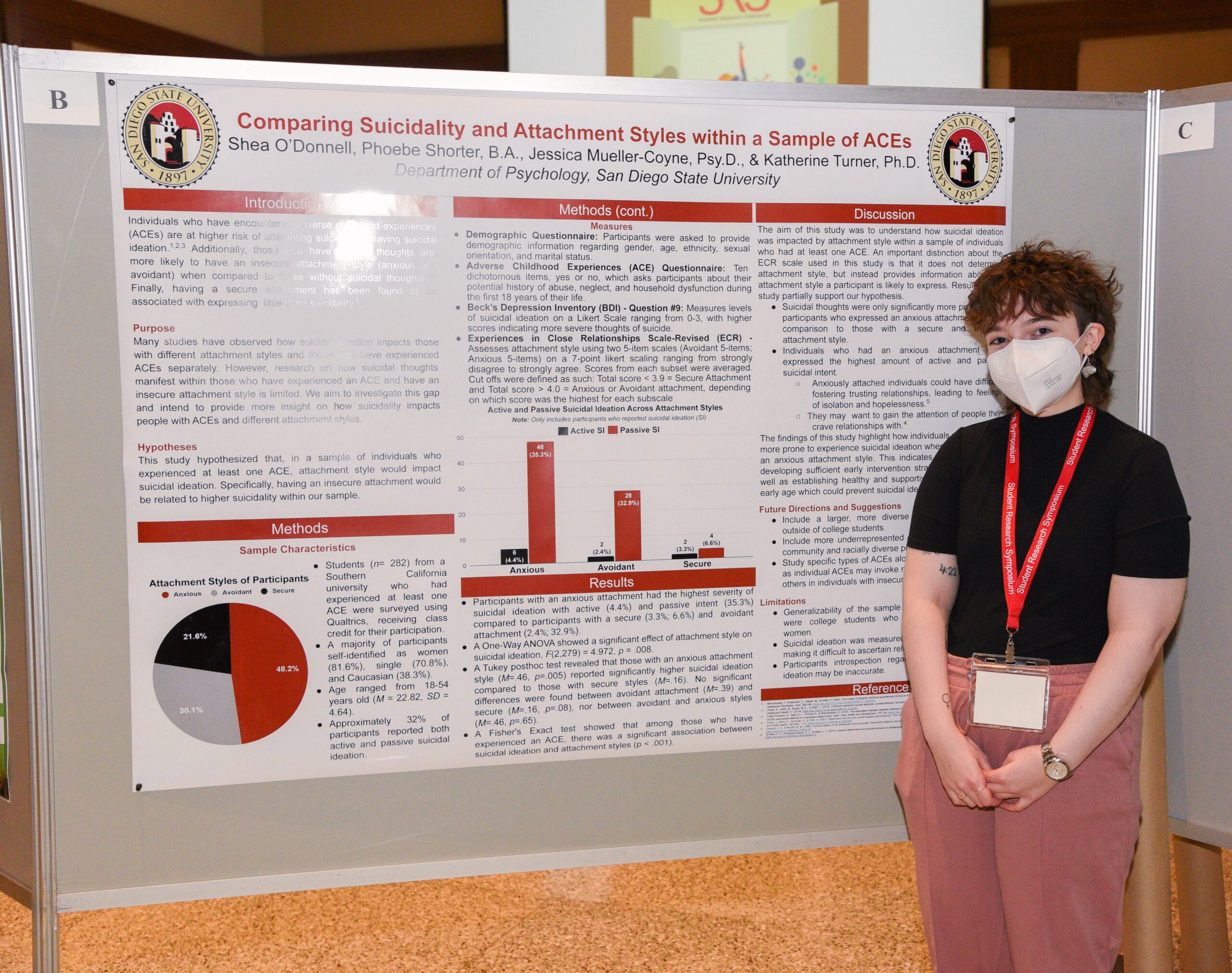 Shea O'Donnell stands in front of a poster comparing suicidality and attachment styles within a sample of individuals who encountered adverse childhood experiences.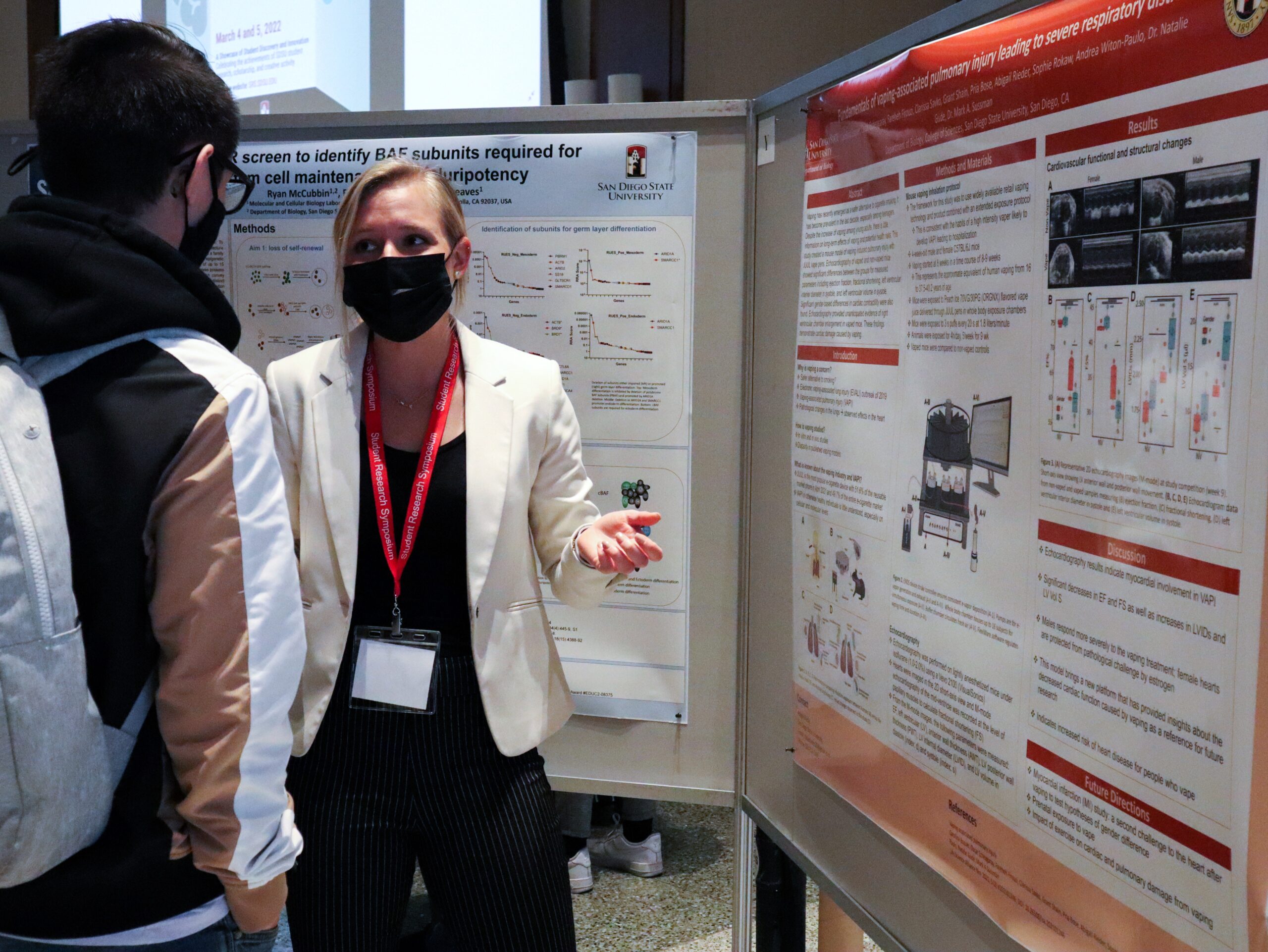 Abbie Rieder explains her research on how vaping leads to pulmonary distress.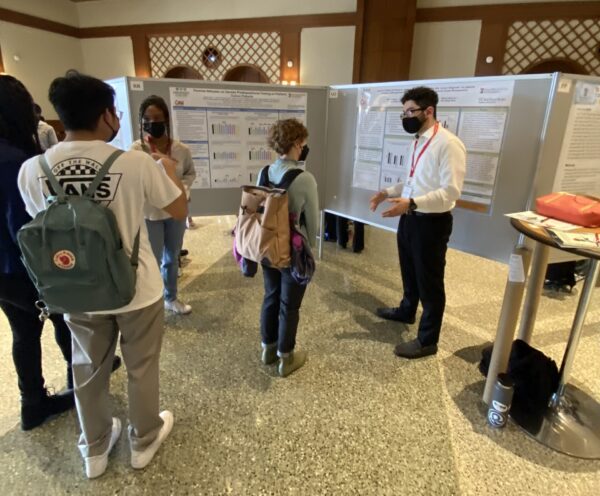 Sydney Olfus (left, facing the camera) and Matyas Hanna (far right) present their posters to audience members.
Including Tasman, sixteen College of Sciences students honored with awards for their outstanding posters and presentations.
Pria Bose, Shea O'Donnell, and Sydney Olfus also won Undergraduate Research Excellence Awards.
Undergraduates Abbie Rieder and Marissa Balagtas earned the Dean's Award for Sciences for their posters.
Graduate students Cayleen Bileckyj and Elguja Gojiashvili received the Provost's Award for Sciences.
Matyas Hanna was awarded the HSI/AANAPISI Award for his work on how pandemic restrictions affected the initiation of cancer treatment.
Lily Harrison won a Summer Undergraduate Research Program award for work examining the effects of sweeteners on pancreas development in zebrafish.
Cassidy McCallum, an undergraduate chemistry major, earned the Sustainability Award sponsored by the Center for Regional Sustainability for research on nanocrystals made with carbon nanotubes.
Samantha Rae and Emma Tsztoo earned Library Awards for their projects that utilized materials from the library's archives.
Three College of Sciences students won the President's Award and will represent SDSU at the California State University student research competition at the end of April:
Karina Pastrana, an undergraduate biology major who modeled non-alcoholic fatty liver disease in stem cells
Amanda Alker, a PhD student studying cell and molecular biology who presented on host-microbe interactions in corals
Karen Thomas, a psychology master's student in the same lab as Tasman who demonstrated that THC from vaping affects rats' spatial memory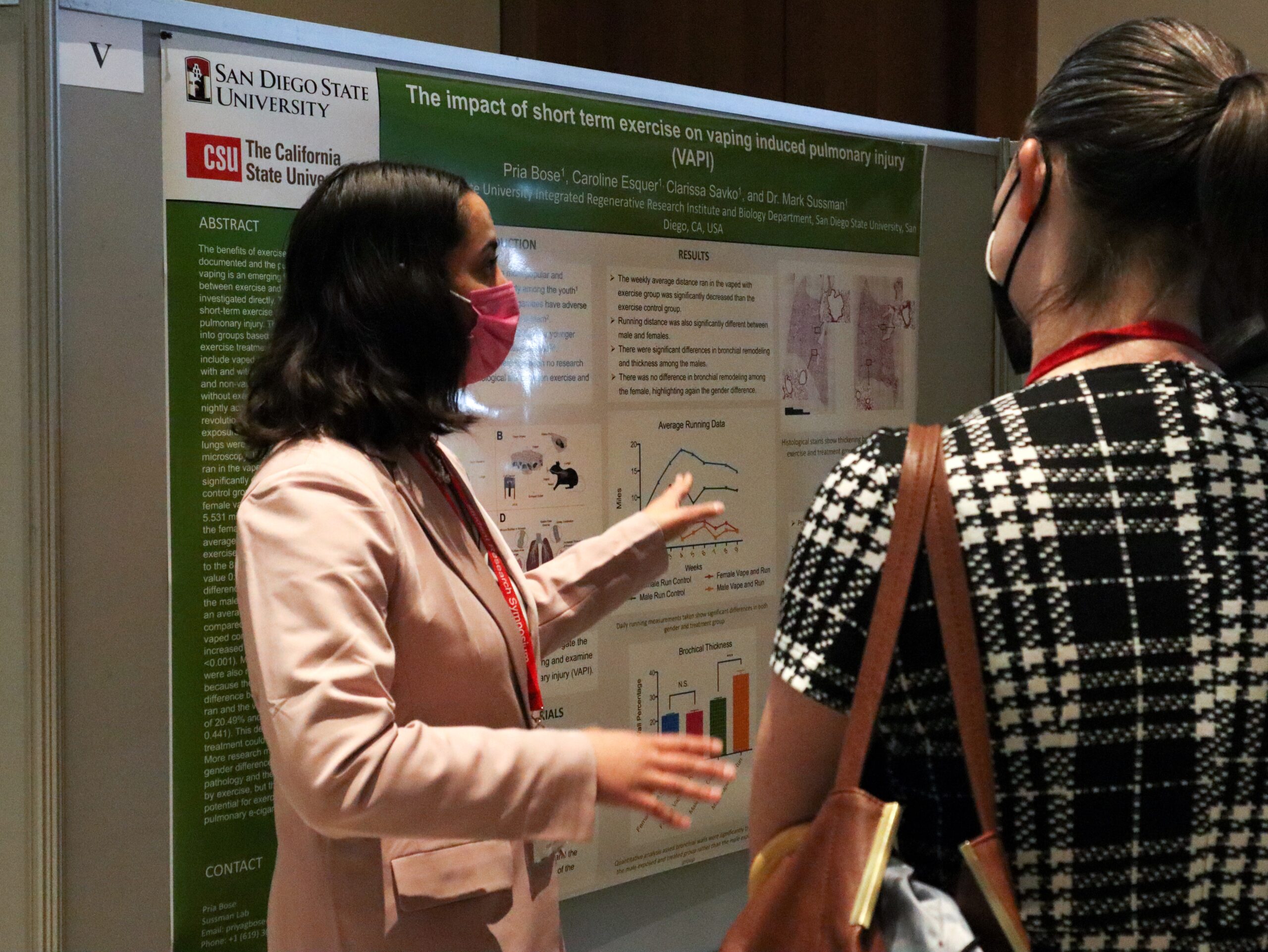 Pria Bose gestures while explaining her poster on the relationship between short-term exercise, vaping and lung health.