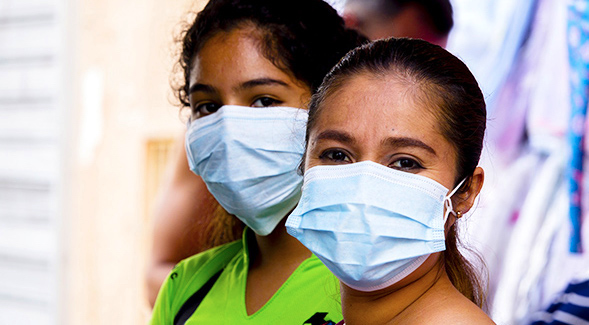 The large study of 50,000 people aims to determine what causes disease severity and long-term impacts.
By Padma Nagappan

Building on the expertise developed by health researchers at its South Bay Latino Research Center, San Diego State University has been invited to participate in a study of 50,000 people from diverse communities nationwide to explore COVID-19 risk factors, predictors of disease severity, and its long-term impacts.
This will help scientists understand why some people become so gravely ill they need to be hospitalized while others have a milder form of the disease.
Greg Talavera and Linda Gallo started the center in 2006 to focus on reducing health disparities in cardiovascular disease, diabetes and colon cancer in the Latinx community. Located in Chula Vista five minutes from the U.S.-Mexico border, the center has deep roots in South County and long familiarity with clinical intervention research for the local Latinx community.
"We have had good retention rates with our participants over the long-term because we provide culturally and linguistically appropriate services in the heart of the South Bay community," Talavera said.
In 2007 Gallo, a clinical and health psychologist, and Talavera, a public health expert and family physician, helped launch the largest epidemiological study of the Hispanic community, the landmark Hispanic Community Health Study/Study of Latinos which enrolled 16,000 participants in four cities across the country, including residents from San Diego's South Bay. It's this connection that led to the center being chosen as one of 37 academic research centers in the U.S for the COVID-19 study.
"We were invited to join this 'cohort of cohorts' study because of our long involvement with the Hispanic Community Health Study where we continue to follow 4,000 people," Gallo said. "We will look at how COVID-19 affects the lungs, heart, brain, and other impacts."
Funded by the National Institutes of Health (NIH), the Collaborative Cohort of Cohorts for COVID-19 Research Study will be led and coordinated by Columbia University. SDSU is the only research institution in the San Diego region that will participate in the study.
This nationwide study will only focus on people already enrolled in 14 such national cohort studies that track their health status, which can help explain why someone develops a mild or severe disease, how long they suffered from it, and social determinants that affect their health. Cohorts in other regions will study Black/African American, Native Americans, Asian Indians and other populations.
Study participants who test positive for COVID-19 will answer an initial questionnaire to assess their disease severity, whether they were hospitalized, and if they experienced complications such as pneumonia, stroke or heart attack. This will be correlated to their medical history.
A follow up questionnaire will assess their mental health and whether they suffered depression, anxiety or stress and other fallouts of the pandemic.
They will also be given serology cards — filter paper — to collect finger prick blood spot samples that are blotted and dried on the paper. This will be used to determine if they have antibodies for SARS-CoV-2, the novel coronavirus that causes COVID-19.
"If they haven't checked in with the center recently but are enrolled in our Hispanic health study, this would be a good time to get back in touch with us," Gallo said.
Niche Expertise in Border Region
Prior to the pandemic began the South Bay center was involved in more than a dozen studies in its focus areas, observational studies as well as randomized clinical trials, most of which have been paused for now.
Talavera and Gallo are co-directors who lead a staff of up to 60, including SDSU student researchers.
For now, the main focus is the COVID-19 study and other research that can be completed by phone, and the center is staffed only by critical essential personnel who come in person.
As a family practitioner specializing in preventive medicine, Talavera has had a long relationship with San Ysidro Health, a Federally Qualified Health Center with a network of 29 facilities which continues to be a key community partner in clinical intervention studies. The South Bay center also partners with the University of California San Diego Health, Scripps Health and Neighborhood Health.
"When we collaborate with community health centers for our studies, the partnership is mutually beneficial which builds trust with the organization and the community they serve," Talavera said.
A majority of the center's funding comes from NIH, and a portion from the American Heart Association.
"When we collaborate with community health centers for our studies, the partnership is mutually beneficial which builds trust with the organization and the community they serve."