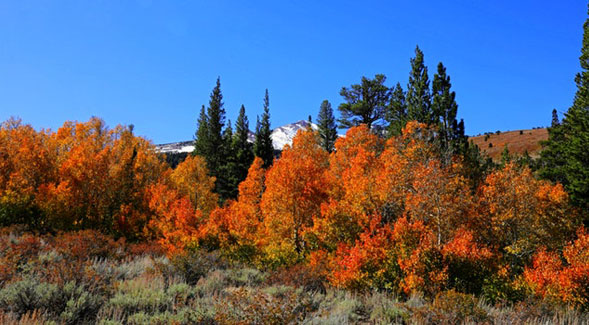 A San Diego State University team received one of the first grants from California's Climate Change Research Program, created by the state legislature in 2017 to support research on reducing carbon emissions.
The nearly $1.8 million award was the second largest of 10 awarded by the California Strategic Growth Council from among nearly 70 proposals submitted. The funding comes from the state cap-and-trade program, which limits and "auctions" rights to greenhouse gas emissions in California.
SDSU biologist Rebecca Lewison and senior research scientist Megan Jennings lead the grant-funded project, which will focus on integrating ecosystem and local community planning to build resilience to climate change.
The work will build on their ongoing research on connected landscapes—places that allow wildlife to move and disperse—to develop tools to support climate-smart conservation and land-use planning. At the same time, the project aims to take a more comprehensive approach to other landscape features such as wildfire risk and water sustainability.
"What's exciting about this opportunity is that it builds on our connectivity research, while giving us an opportunity to leverage and partner with other areas of expertise and excellence on campus," said Jennings. The team includes engineer Alicia Kinoshita, geographer Doug Stow, and Sherry Ryan, director of the School of Public Affairs.
Walter Oechel, director of SDSU's Global Change Research Group and interim dean of the College of Sciences, called the grant "a major advance for conservation research in Southern California" that will support critical new research on sustainability of natural ecosystems under climate change and other human disturbances.
The project partners SDSU's Institute for Ecological Monitoring and Management, which Lewison and Jennings co-direct, with the Climate Science Alliance—South Coast to engage stakeholders from local jurisdictions, land management agencies, and organizations involved in conservation and land-use planning. The team's primary project partners also include the two regional planning agencies in Southern California, the San Diego Association of Governments (SANDAG) and the Southern California Association of Governments (SCAG), as well as a tribal working group led by the Pala Band of Mission Indians, and the City of Carlsbad.
The work will focus on natural lands from San Diego to Ventura counties, and inland to western Riverside and San Bernardino counties with a goal of providing sound science to inform planning for sustainable ecosystems and communities in Southern California.
"This project is an excellent example of CSU scholarship that focuses on student engagement and applied research," said Ganesh Raman, assistant vice chancellor for Research in California State University's Office of the Chancellor.
"What's exciting about this opportunity is that it builds on our connectivity research, while giving us an opportunity to leverage and partner with other areas of expertise and excellence on campus."