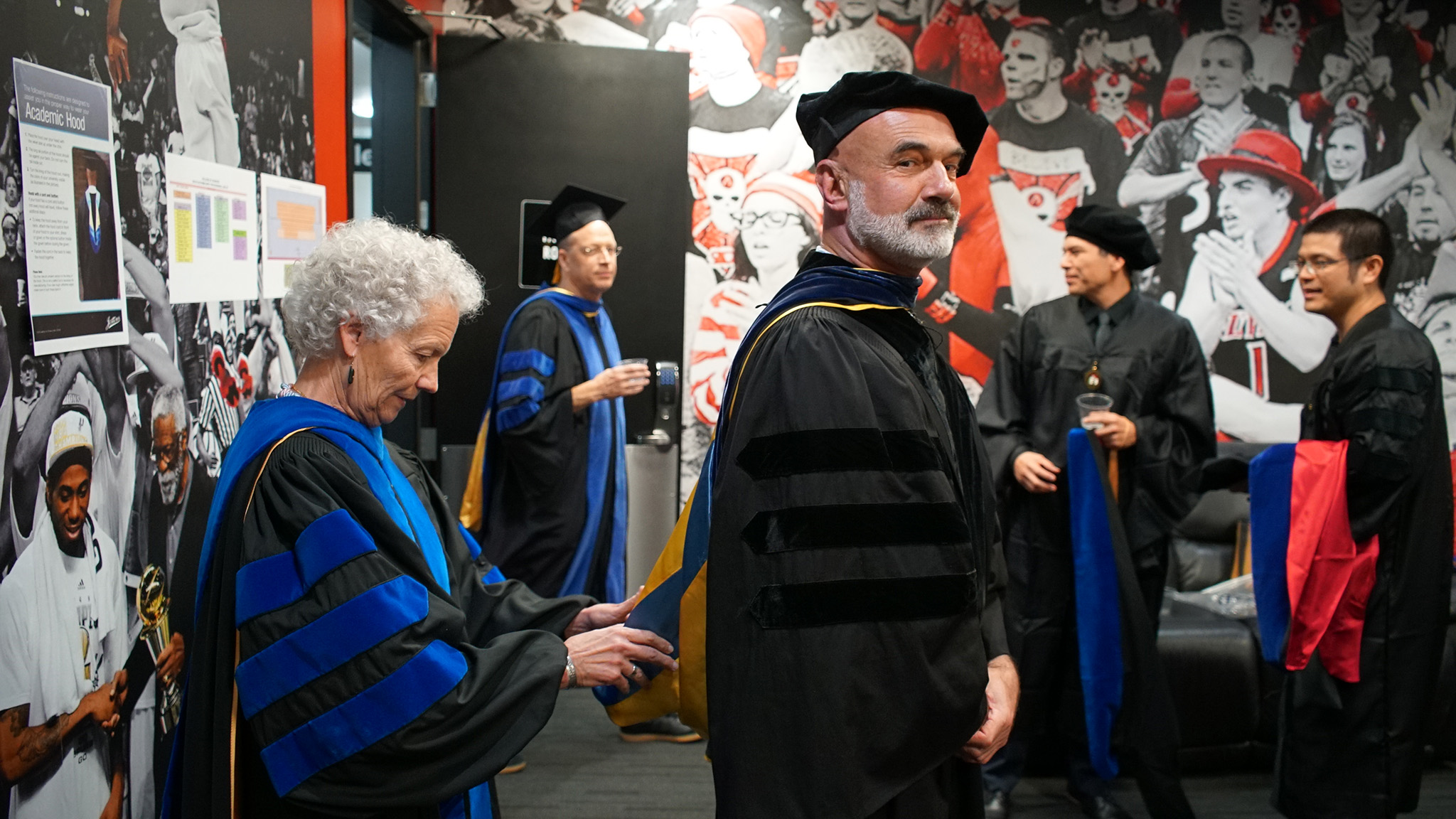 By Jason Ritchie and Sarah Katsiyiannis
After being diagnosed with lung cancer, SDSU virology professor Roland Wolkowicz was determined to continue teaching but didn't anticipate he could attend his students' commencement celebration. Despite Wolkowicz's battle, he unexpectedly arrived to surprise his students during their May 18th commencement at Viejas Arena. Dressed in full doctoral regalia, Wolkowicz proudly joined his students before the processional to support them. His students refer to him as hilarious, caring, and inspirational.
When Majid Salami, one of Wolkowicz's graduating master's students, was asked about the surprise, he said, "I was extremely happy! I remember he told us he was probably not going to show up. While I was outside waiting with the other graduates, all of a sudden, I hear Roland calling my name. I was shocked because we didn't think he was going to be there." Wolkowicz had to leave early, but not before congratulating his students and capturing the moment with photos.
Wolkowicz encouraged Salami to pursue a master's degree in Biological & Medical Informatics. "He has always been encouraging of his students. He is an amazing mentor," said Salami, "He can always find the positive end of something that you think is so negative. There have been multiple times when I have gone into his office because something didn't work, or I made a mistake, and he can find that silver lining in it."
"He lives for academia," said Salami. "He came back because he wanted to teach his class. He surprised us at graduation. He is the reason I continued on with the master's program. I wouldn't be where I am right now without Roland. I couldn't imagine not meeting him and not having him in my life."
Wolkowicz's Work
The Wolkowicz Lab studies RNA viruses and their interactions with their hosts. The primary pathogens under investigation are HIV-1, Dengue Virus, West Nile, and Chikungunya Virus. The lab develops analytical tools designed to study mechanisms in the virus and host to detect viral maturation and spread. They hope to find new antiviral therapies to combat the transmission of these devastating viruses.