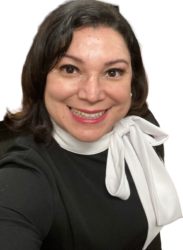 Regulatory Affairs alumna Michelle Vargas ('20) is currently the Associate Director of Quality Systems (Global Oversight) at Pacira BioSciences, Inc.
What made you interested working in genomics, and what brought you to Illumina originally?
What interested me about working in genomics and brought me to work at Illumina is the many possibilities of biotech products and analysis that can be done using Illumina's DNA Sequencers. This includes improving diagnosis of rare diseases, finding out the exact genetic composition of specific cancers, supporting agriculture, helping couples identify possible genetic issues in reproductive health, studying coronavirus, and many, many other applications. The possibilities are endless. Another reason I joined Illumina was that I was offered a unique role that made a company-wide impact, which was to implement a cGMP program as the company was transitioning from being primarily an R&D site to manufacturing medical devices.
Fill in the blank: At Illumina, I grew more than I ever thought possible – and here's how:
First, by gaining knowledge from other Illumina Quality peers, by spending time learning the different electronic and paper-based quality systems, and then by utilizing the many quality tools used at Illumina. Also, I took it upon myself to meet with other leaders I admire and learn about their career journeys. Finally, I implemented the Illumina ASQ Focus team, where we collaborated with other quality leaders from other companies. 
Can you share with us a bit about your work as a Board Member for MESA?
MESA (Mathematics, Engineering, Science, Achievement) is a college readiness and career "engine" that encourages underrepresented students from high school, city college, and universities to pursue and complete STEM degrees. I have mentored about 25 first-generation MESA Hispanic students. I encourage them to stay in school, give them tips on college education, share internship opportunities, write recommendation letters for scholarships, help them create resumes, do mock interviews, and much more. What I am most proud of is witnessing about 20 of my program mentees earning their college degrees in engineering!
With Hispanic Heritage Month kicking off September 15th, what would you like readers to know about your own heritage and what this annual recognition might mean to you?
To me, every day is Hispanic Heritage Day since I am very proud of my humble beginnings and birthplace of Nicaragua. As a family, we carry on traditions such as speaking Spanish, dancing to our Latin beats, eating and cooking delicious Nicaraguan food, visiting Nicaragua, spending time with our family, and wearing our traditional bright and embroidered blouses and dresses. My home country is small but big in natural beauty, such as active volcanoes, lakes, beaches, and rainforests. Most importantly, I want others to know that Nicaraguans are very caring and always open our doors to any tourist who wants to explore our beautiful country.
This recognition gives me time to reflect on all I have accomplished since I came to the US as a child. America is the land of opportunities, and I have gotten this far by working really hard to achieve my dream and the goals that I set out to accomplish.
Excerpted from article published on Illumina's Alumni Network, by Ashley Binter