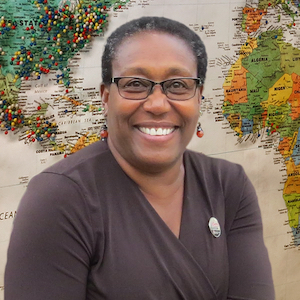 Estralita
Martin
Ph.D.
Assistant Dean for Student Affairs
Director of CASA
Education
Ph.D. University of California, Berkeley 1984
Dr. Martin obtained her B.S. degree from Oberlin College in biology and physical education, her M.S. degree in biology from Atlanta University and her Ph.D. in biology with an emphasis in cell and developmental biology from the University of California at Berkeley. While doing her post-doctoral research at the University of California at San Diego (UCSD) and the Veterans Administration Medical Center, she was asked to teach general biology and embryology, an upper division biology course, at San Diego State University. At SDSU she became a faculty advisor to some of the student organizations on campus.
As the Assistant Dean for Student Affairs Dr. Martin's primary responsibilities are to "help students deal with the nonacademic issues that will interfere with their academic progress." She listens to students to assess what is hindering them from succeeding academically and then helps them find the assistance and resources they need to resolve issues. Dr. Martin has also accepted the position as the Director of the Center for the Advancement of Students in Academia (CASA) in the College of Sciences. In this position Dr. Martin is centralizing a network of programs designed to help enhance underrepresented students' college experiences. CASA programs help students find tutoring, improve their research skills and prepare for graduate level studies.
Dr. Martin's goal is to have the assistant dean's office be a comprehensive administrative center that will have both outreach and retention programs to provide a pipeline for students interested in becoming academicians, physicians, researchers and anything other profession they wish to achieve. Dr. Martin is taking steady steps to encourage both the SDSU community as well as the community-at-large to work together to improve the diversity and successes of students in all professions.
Research Interests
Embryologist-bone development and endocrinology.