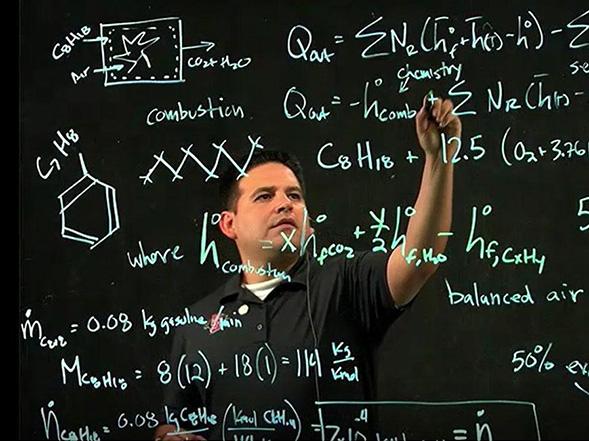 The degree program will train students to work across teams and disciplines to help solve critical problems.
By Kellie Woodhouse
With San Diego State University President Adela de la Torre driving major institutional initiatives in support of student, faculty and staff development, and with ambitious plans for future growth, SDSU opens 2019 with increased momentum toward an expanded community impact.
"Directions: SDSU in 2019" is a series highlighting top stories related to university research, student success and innovative programs and provides a forward-looking lens into the work of students, faculty and staff.
Natural disaster early warning systems. Climate change models. Global disease simulations. Clean energy technologies.
What do all these scientific advancements have in common?
They are developed in part by computational scientists, practitioners of a rapidly growing field that combines applied mathematics and advanced computer programming with engineering and science to help solve the world's most pressing problems.
This year San Diego State University began offering a reimagined, joint-doctoral degree in computational science with the University of California, Irvine. The interdisciplinary degree program trains students to work across teams and disciplines to learn how to develop tools critical to solving complicated scientific, environmental and public health issues.
"Students of computational science are versatile and nimble. They are able to move around and work within different disciplines and teams," said Jose Castillo, director of SDSU's Computational Science Research Center (CSRC) and co-director of the SDSU/UC Irvine joint-doctoral program in computational science.
"Our students have to be toolmakers as much as tool-users. Most of the problems we work on cannot be solved with tools that exist today. Instead, our students have to develop new tools and new methods of solving problems."
One such example of cross-disciplinary toolmakers is a group led by Castillo that develops and tests computational models for carbon sequestration. His team of mathematicians, scientists, engineers —and several SDSU computational science students—is designing a way to safely store carbon dioxide underground, allowing it to be removed from the atmosphere and thereby slowing climate change.
SDSU has long been at the forefront of interdisciplinary computational science, recognizing early on that knowledge of both advanced computing and collaborative science can radically advance research. The university developed the CSRC in 1999 and began offering the computational science joint-doctoral degree program in 2002, originally with Claremont Graduate University as a partner and now with UC Irvine.
Under this new collaboration, faculty from UC Irvine's Donald Bren School of Information and Computer Sciences and Henry Samueli School of Engineering will teach, mentor and advise students in the joint program, greatly increasing the number of courses, labs, scholarships and resources available.
"There's enormous benefit to having the synergy between the two universities," Castillo said. "There are things that SDSU has that UC Irvine doesn't, and vice-versa. This allows for the program to have a broader and richer focus."
Given this additional capacity, Castillo expects the joint program to grow quickly. It has a reputation for being competitive, enrolling fewer than 10 percent of applicants (about a dozen students) each year. Past graduates have landed jobs at major companies like Microsoft, Ford Motor Co., Illumina, and major national laboratories.
"Interdisciplinary research is important and needs to be nourished," said Wayne Hayes, a computer science professor at UC Irvine and co-director of the SDSU/UC Irvine joint-doctoral program in computational science. "This new partnership gives us the opportunity to broaden the viewpoints of both graduate students and faculty to see how computation can advance state-of-the-art research and cross-pollinate ideas."