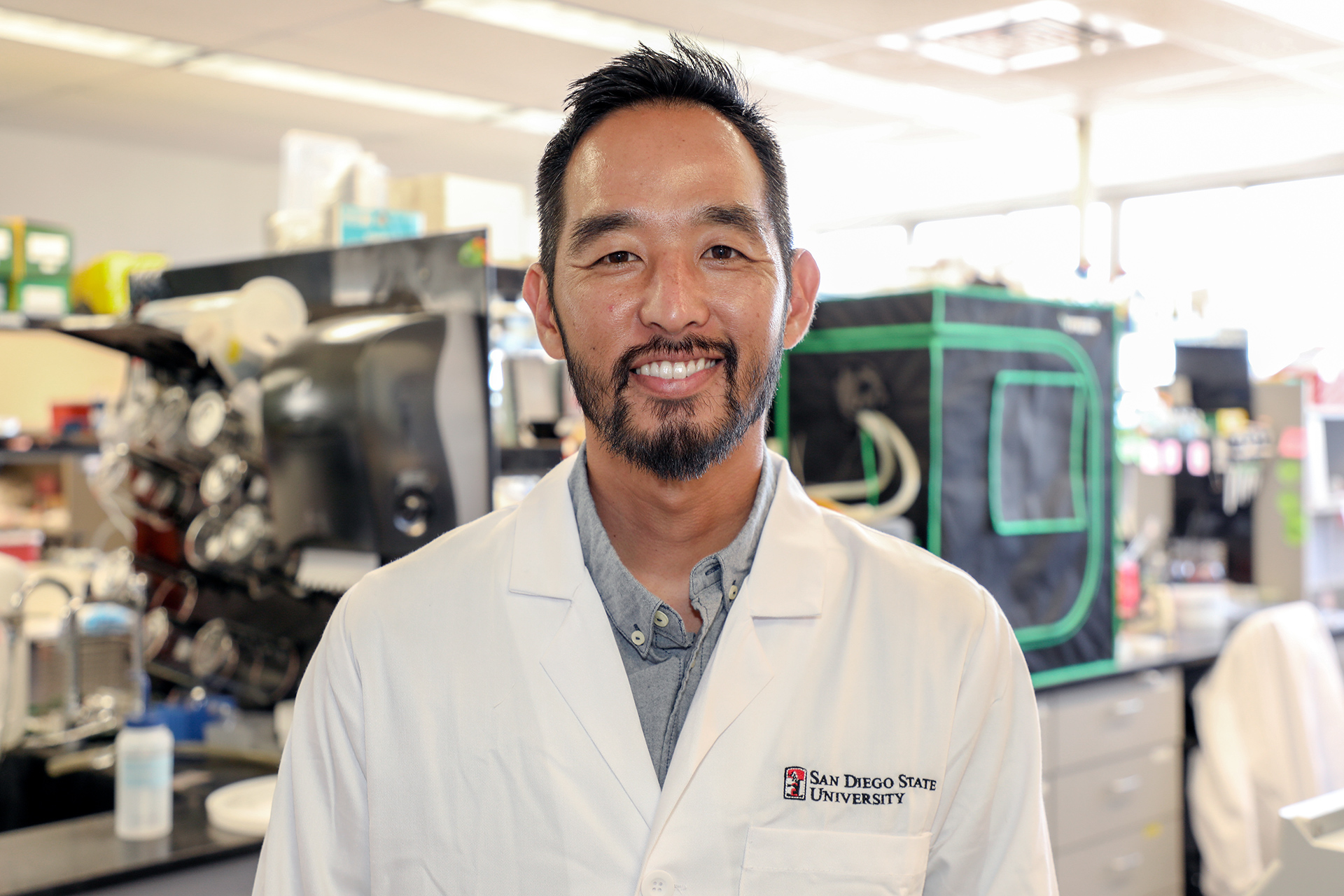 The nearly $1 million grant will enable Nicholas Shikuma to further explore how bacteria cause metamorphosis in marine animals and corals.
By Padma Nagappan
When he first began studying tiny tubeworms which cause barnacle build-up on the bottom of boats, Nicholas Shikuma didn't know his research would lead to where he is today—or to a career award from the National Science Foundation (NSF) for talented faculty.
The assistant professor of biology at San Diego State University has made several key discoveries that expanded our knowledge of how certain bacteria cause metamorphosis in marine animals like the tubeworm, which enables them to establish colonies.
Shikuma's research interests the U.S. Navy, since biofouling—when crusty barnacles stuck to the bottom of boats increase weight and fuel consumption—causes economic loss due to higher fuel costs. The Office of Naval Research funds this ongoing research.
As he continued to study one particular beneficial bacterium, Pseudoalteromonas luteoviolacea, Shikuma discovered it has a syringe-like structure that injects a novel protein in the marine host to cause metamorphosis. This finding has implications for human health, since the same process may take place in our gut microbiome.
It led to another milestone for Shikuma: an NSF CAREER award of $999,600 spread over five years, awarded to promising early career faculty to further advance their research.
"The intent of our research is to create a technical roadmap to determine how bacteria stimulate metamorphosis, because no one has been able to figure this out," Shikuma said. "The roadmap will initially be for one bacterium and one marine animal, but it can eventually be applied to other animals such as oysters in aquaculture or corals that build coral reefs. There's a whole world that could be explored out there, and this is the first template for it."
His initial research studies helped determine the nanoscale structure of the bacterial syringes. The next step will be to find out how the protein works once it is injected into its marine hosts, and how they respond to it, which ultimately leads to metamorphosis.
This involves in vitro biochemistry, and Shikuma will collaborate with SDSU chemist Erica Forsberg, an expert in metabolomics, the study of metabolites or small molecules inside cells and organisms.
The NSF grant also will help cover research stipends for a graduate student and a post-doctoral researcher in Shikuma's lab, and fund internships for three undergraduate students from underrepresented backgrounds each year.
"The awards have a heavy emphasis on research, but also on teaching," Shikuma said. "I proposed bringing in freshmen to help me perform tests on tubeworm and coral in the lab. Students often apply to labs only as juniors or seniors, but if we bring them in as freshmen, we can train them early on and hopefully foster their interest in pursuing biology research pathways."
Shikuma hopes this will create a pipeline of well-trained undergraduates who can hit the ground running with research projects in graduate school. He will work with the MARC (Maximizing Access to Research Careers) and IMSD (Initiative for Maximizing Student Development) programs to recruit students interested in biology research.
He reflected on how far he has come, since he first began studying the bacterium's effect on tubeworms as a master's student at the University of Hawaii and later as a post-doctoral researcher at the California Institute of Technology.
"It's definitely been a winding journey," Shikuma said. "We are one of maybe three labs in the world studying tubeworms. Having these results and seeing the research expand our horizons has been exciting."