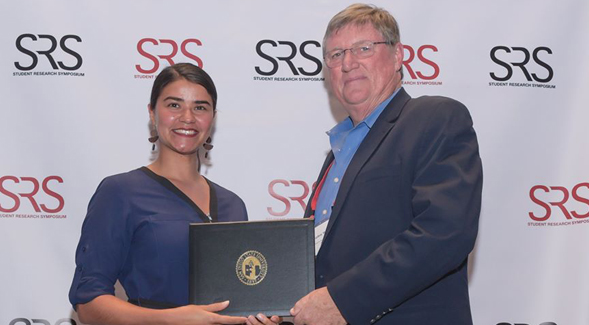 SDSU's top student researchers placed in three categories at the statewide competition, held this year in a virtual setting.
By Padma Nagappan
Student research on heart tissue, bone replacement and how black adolescent girls identify themselves at school won accolades for San Diego State University students in a statewide competition.
Each year, the 10 students honored with the President's Award at the SDSU Student Research Symposium advance to a California State University systemwide competition.
This year, the event was slated to be hosted in April at CSU East Bay, but went virtual instead, enabling budding researchers to compete at a higher level and hone their presentation skills despite shelter-in-place restrictions.
Seven SDSU students were able to participate in the altered contest and three received top honors, competing with 260 students from 23 CSU campuses. The virtual competition called for retooling their approach, submitting their slides two weeks in advance, and conducting a Q&A with judges via Zoom on the day of the event.
"It's my fifth year coordinating this event and it's different every year. We've branched out beyond STEM, we showcase research across the university and have students from humanities and education as well," said Ashley Rubio ('13), the symposium and research affairs coordinator. "It's a great event where people can see what our students do during the year, and SDSU shines every year."
The virtual contest did mean they missed out on some typical experiences. The competition is normally open to the public, academia and industry and draws a lot of visitors, in addition to judges, who stop by poster boards and chat with students about their research. This year, that learning experience was missing, but students were happy to have the opportunity to compete.
Maricruz Carillo, a second-year doctoral student, placed first in the mechanical and aerospace engineering category for her research on bone replacement techniques using ceramic materials and 3D printing. She works in engineering dean Eugene Olevsky's sintering lab.
"It was overall a good experience," Carillo said. "I think the participants missed out on a lot of the networking opportunities and potential collaborations with other students. But it allowed me to really grow in presentation skills since I have a recording of it and was able to practice where I needed the most help."
In biology, sophomore Jeffrey Jones placed second for his research on a protein coding gene that is key to regenerating heart tissue. Heart disease springs from the heart's inability to regenerate damaged tissue, so his research may someday help patients in their recovery. He worked at the SDSU Heart Institute in molecular cardiologist Christopher Glembotski's lab and was mentored by post-doctoral fellow Erik Blackwood.
"At first, I was just relieved that the competition would be able to continue," Jones said. "Presenting to an empty room was a bit more challenging since I couldn't gauge whether the audience was following along. However, it was nice to be able to record it in advance. I'm very grateful to have been able to present my research and it was exciting to learn from other CSU student researchers."
Darielle Blevins, a doctoral student in education, placed second for her research on how black adolescent girls negotiate their identity at school via self-portraits that represent how they feel about themselves on the inside, and how their teachers view them. She works with associate professor of counseling and school psychology Nola Butler-Byrd.
"The online experience was very different. I appreciate the work of the coordinators in creating a space for student researchers to connect with one another," Blevins said. "I was happy to be able to share the stories of black girls with like-minded researchers. The experience was meaningful as I was able to share resources and remain in touch with a colleague who presented during my session."