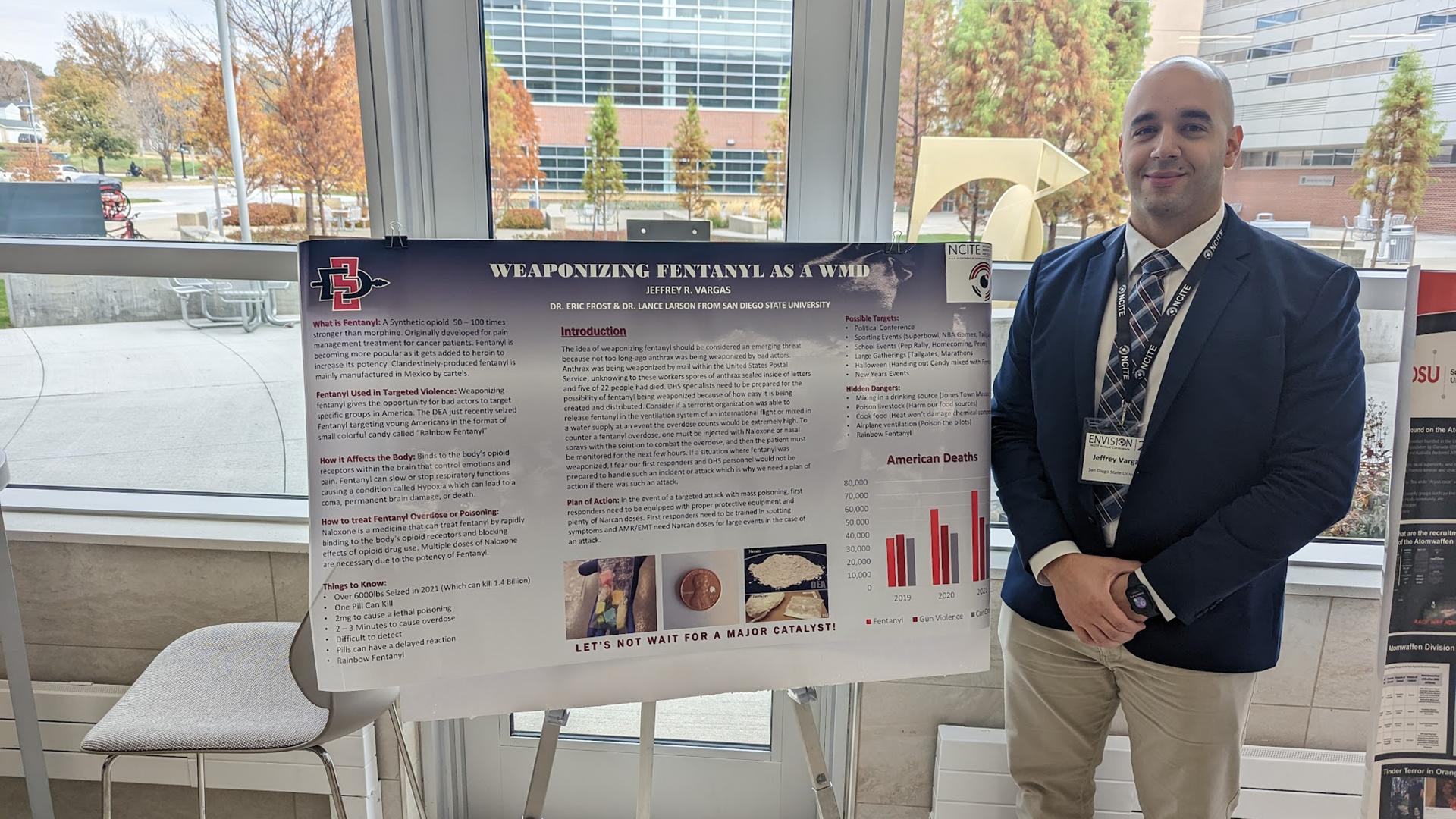 After serving in law enforcement in the Air Force for seven years, Jeffrey Vargas's ('22) original career goal was to move back to New Jersey and become a police officer to help his community.
"When I was younger, I never thought I would finish college. I never thought it was something I needed to be a cop."
But two knee surgeries and a few inspirational speeches from his wife later, he started to question whether he could do something else, something more.
He completed his undergraduate degree in Criminal Justice at SDSU in a year and a half, but he felt a little bit like Adam Sandler in "Billy Madison" being married and nearly 30. Luckily, he found other veterans in his classes and had a professor that pushed him. With a few years left of GI Bill benefits, he pondered what to do next and decided to earn his master's degree in Homeland Security.
"A friend of mine, Demitrious Johnson, has this quote, 'Don't limit your challenges; challenge your limits,'" Vargas said.
He says the Homeland Security program is helping him learn that he does not have as many limits as he thought he did.
"I never pictured myself doing reading, doing research, going to an academic conference," he said. "Here I am doing it and getting recognized."
At the end of October, he presented a poster on the dangers of fentanyl at a conference of the National Counterterrorism Innovation, Technology and Education Center (NCITE). His project was selected for a $500 award, which he plans to spend preparing for his new baby.
Fentanyl is a synthetic opioid used for chronic pain relief that is 100 times stronger than morphine. As little as two milligrams is enough to cause a lethal overdose within three minutes and officials seized over 6000 pounds of the illicit drug in 2021 alone.
"Fentanyl isn't being looked at [as a terrorist attack] because it isn't one cataclysmic event; it's more of a slow burn," Vargas said.
More than 70,000 people died from accidental overdose of fentanyl in 2021, according to the Center for Disease Control and Prevention. Sixty percent of the fentanyl in the United States is being trafficked across the U.S.-Mexico border near San Diego.
Vargas is advocating for increasing the supply of Narcan – a nasal spray that slows fentanyl poisoning – among first responders and stocking it in every ambulance. With guidance from Homeland Security program co-director Eric Frost, Vargas will develop a plan of action to prevent large-scale fentanyl poisonings for his master's thesis.
He first heard about fentanyl in 2015 when two of his high school classmates died from an overdose. Now Vargas is doing his best so fentanyl won't still be a problem when his soon-to-be-born daughter takes her first drug prevention classes.