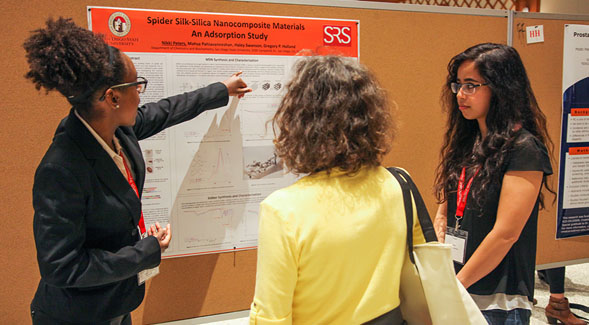 Monday, March 12, 2018
10 SDSU Students Advance to CSU Student Research Competition
Hundreds of students presented original research and creative projects at the 11th Student Research Symposium.
By 
"More than 520 undergraduate and graduate students showcased their original research, scholarship projects and creative abilities across a variety of disciplines at San Diego State University's 11th annual Student Research Symposium.
The event took place March 2-3 in Montezuma Hall at the Conrad Prebys Aztec Student Union. Panels of SDSU faculty and staff judges evaluated entries and awarded participants more than 50 cash prizes in recognition of outstanding presentations or performances. Categories included the Undergraduate Research Excellence Awards, Library Awards, Dean's and Provost's Awards, as well as the President's Awards.
The following 10 students were recognized with $500 President's Awards for outstanding achievement in original scholarship. They will represent SDSU at the California State University (CSU) Student Research Competition on May 4-5, 2018 at CSU Sacramento:
David Watson, Musical Theatre
Mentor: Robert Meffe
Research: "There Goes War Like a Dream of Love: Directing "Trojan Incident" in 2018 America"
Mason Hearn, Physical Therapy
Mentor: Harsimran Baweja
Research: "Acrophobic? Let's Walk the Plank"
Jamie Renna, Psychology
Mentor: Phillip Holcomb
Research: "Spanish/English Bilingual Processing of Cognates, False Cognates, and Noncognates: An EEG Study"
Amanda Schumaker, History
Mentor: Pierre Asselin
Research: "The Committee of Correspondence: Women in American Politics and International Relations, 1952-1969"
David White, Psychology
Mentor: Ksenija Marinkovic
Research: "EEG Resting State Analysis of Fibromyalgia Patients"
Katherine Nager, Political Science
Mentor: Cheryl O'Brien
Research: "The Importance of Social Capital in Microfinance, A Case Study from Rural Uganda"
Marwa Abdalla, Communication
Mentor: Charles Goehring
Research: "Rhetorical Insights into Islamic Feminism"
Sophia Do, Bioengineering – Biomaterials
Mentor: George Youssef
Research: "Synthesis and Characterization of Polyurea Microspheres"
Yessenia Zepeda, Social Work and Public Health – Health Management and Policy
Mentor: Melody Schiaffino
Research: "Factors Associated with Adaptive and Maladaptive Coping in Female Adolescent and Young Adult Cancer Survivors"
Madison Kennedy, Biochemistry
Mentor: Christal Sohl
Research: "Characterization of the Receptor Tyrosine Kinase Tie2"
View a full list of all of the symposium awardees".