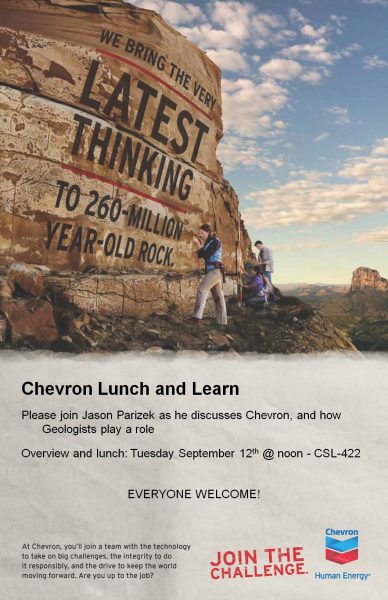 September 12-13th, 2017
Recruiter: Jason Parizek

EARTH SCIENCE AT CHEVRON:
Chevron is recruiting Geologist-Interns and Geophysicist-Interns located in:
· Bakersfield, California
· Covington, Louisiana
· Houston, Texas
· Midland, Texas
· Moon Township, Pennsylvania
Geologists and Geophysicists within Chevron are part of multi-disciplinary teams which vary in make-up but can include reservoir engineering, production engineering, simulation engineering, facility engineering and well engineering operations functions. These positions will provide technical geological or geophysical support and risk assessment for prospect generation, reserves recovery and major capital projects. Mobility is encouraged as there are many opportunities for Chevron geologists and geophysicists to work in a variety of assignments at different locations, both domestic and international.
Responsibilities for this position may include but are not limited to:
Geologic Skills: Successful geology candidates must be familiar with development geology work processes and have the ability to integrate seismic, well, and production data to evaluate reservoirs. Reservoir Management skills such as reservoir mapping, modeling and characterization must be demonstrated. The successful candidate also needs to be adept at volumetric, reserve and risk assessments. Formation evaluation and planning for and managing reservoir surveillance programs or new well, sidetrack and work over planning could also be expected job functions. Position may require driving on a routine basis.
Geophysical Skills: Successful geophysical candidates must be familiar with geophysical tools (velocity, amplitudes, AVO modeling, rock physics, seismic processing, etc.) to assist earth scientists and engineers in prospect generation and reserves recovery. The candidate must keep abreast of new and emerging technologies, maintain close ties with geophysical vendors and intra-company technology networks and leverage when appropriate.
Required Qualifications:
· Students pursuing their Masters or Doctorate degree in geology, geophysics, geological engineering or related fields.
· Strong academic performance in core programs, communication, leadership, teamwork and problem-solving skills.
· GPA – 3.0 or above
Preferred Qualifications:
· Masters or Doctorate students with specialties in the fields of geophysics, seismic data acquisition and processing, seismic velocity modeling, reservoir properties from seismic, carbonate and clastic stratigraphy and petrography, structural geology, field mapping, depositional systems, petrophysics and well log technologies, geochemistry, and basin, geostatistical and fluid flow modeling.
Relocation Options:
Relocation may be considered within Chevron parameters.
Additional Application Instructions:
Please submit your resume (CV) and unofficial transcript(s)
Chevron is an Equal Opportunity / Affirmative Action employer. All qualified applicants will receive consideration for employment without regard to race, color, religion, sex, sexual orientation, gender identity, national origin, disability, or protected veteran status
Chevron regrets that it is unable to sponsor employment visas or consider individuals on time-limited visa status for this position.
This position may involve ETC technologies that are subject to U.S. export controls and trade sanctions. These export control laws apply to individuals who are (a) not U.S. citizens, permanent resident aliens, temporary resident aliens, applicants for temporary resident status, refugees, or asylees; and who are also (b) current citizens or permanent residents of a country that is subject to comprehensive trade sanctions under U.S. export control law, http://www.treasury.gov/resource-center/sanctions/Pages/default.aspx. As such, we regret that we would be unable to provide a meaningful internship experience at ETC for you because under government regulations, ETC would not be able to allow access to such technologies absent an authorization from the U.S. government. For this reason, ETC is not considering applicants who are current citizens and/or permanent residents of countries subject to comprehensive U.S. trade sanctions.
Regulatory Disclosure for US Positions:
Chevron is an Equal Opportunity / Affirmative Action employer. Qualified applicants will receive consideration for employment without regard to race, color, religion, sex, sexual orientation, gender identity, national origin, disability or protected veteran status, or other status protected by law or regulation.
Chevron participates in E-Verify in certain locations as required by law.