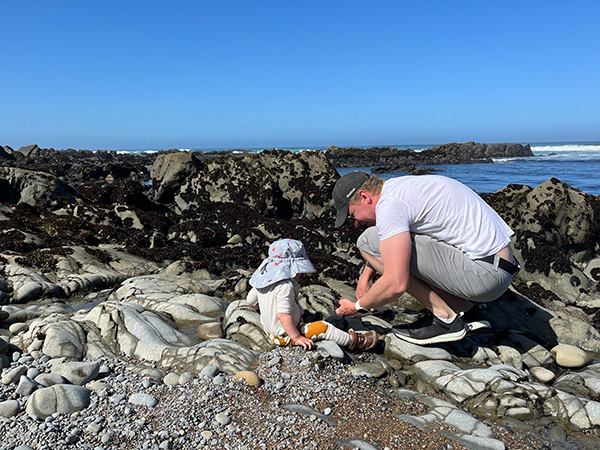 Clambering over rocks to reach tidepools in her hometown of Palos Verdes and spending hours in aquariums defined Stephanie Lo's childhood. So when she and her husband, Ben Billings, were looking for a way to give back, they knew they wanted their efforts to benefit the ocean.
Lo's relative introduced her to Elizabeth Dinsdale, a biologist at San Diego State University and Flinders University in Australia. Seeing how enthusiastic Dinsdale's students were about shark and ray research, Lo realized she could do some good by facilitating the careers of future marine scientists.
Billings and Lo agreed that they wanted to cast a wider net of who gets to participate in science and technological fields because diversifying science leads to different questions and solutions.
"It can be hard to want to pursue a career in marine biology, with all the expenses of flights and equipment," Lo said. "I really want students to have experiences that deepen their passion."
In 2017, the couple started the Shark Bait Scholarship program to provide financial assistance to students, primarily in Dinsdale's lab, who were working on determining whether shark fins sold in markets around the Pacific Ocean were from endangered species.
This research project felt very practical and like it had impact on policy, said Lo. And several of Dinsdale's students would go on to pursue additional education and train other diverse scientists, fulfilling Lo's desire to have a ripple effect across marine biology.
Since starting the fund, Lo and Billings have supported seven students in collecting and analyzing microbiome data from coral reefs and shark species around the world. Many of these students are from historically marginalized backgrounds and have earned graduate degrees or are leading their own marine research projects.
Although Lo says she doesn't have the patience to be a scientist, she is encouraging her young daughter to always be curious. On recent family trips, their daughter was enthralled with touching a bat ray and sea anemone.
Paying forward a love of marine life in myriad ways, priceless.