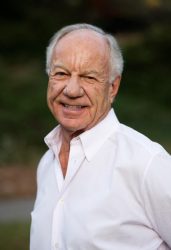 As a junior at San Diego State University, Ray Berry ('63) had a meeting with a counselor that paved the way to his success. This counselor asked him, "Why aren't you trying?" and told him he could do better if he applied himself more.
The next semester, Berry enrolled in 21 units while continuing to work full-time at local supermarkets. He got the highest GPA he ever had. Through this, he learned, "Don't be afraid to fail. It is very easy to be good because most people don't try that hard."
Carrying that lesson beyond John F. Kennedy's speech at his commencement in 1963, Berry worked his way up to Vice President of Stores at the parent company of 7-Eleven, running 3600 locations.
Then, he decided he wanted to work for himself.
With his late wife and fellow SDSU alumna, Beverly, Berry moved to a new city and co-founded The Fresh Market, a gourmet grocery store chain. In 2021, Berry's venture was named best supermarket in America by USA Today.
He attributes his success as a manager to his background in psychology. "It helped me understand how to work with people." 
As the first in his family to attend college, Berry said San Diego State "provided everything I needed in a college" and advises his own grandchildren as well as current students to "take advantage of every opportunity to learn how to learn."