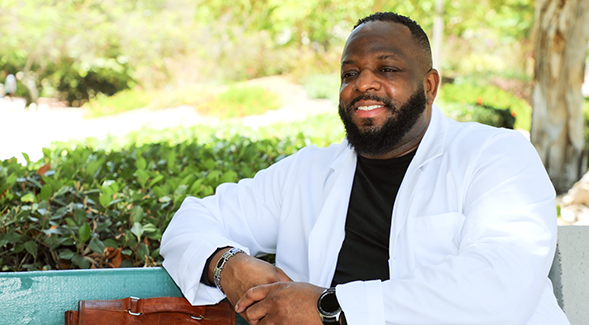 California State University Trustees' award winner Deja Reign pursues his passion and a mid-life career shift.
By Jeff Ristine
He assisted with humanitarian relief in Haiti for the U.S. Navy, built satellites at the Hughes plant in El Segundo and recorded his own rap albums — but only now is Deva Reign finding his place in a field that has fascinated him since childhood.
It's clinical neuropsychology, more specifically traumatic brain injury, an area of investigation he wants to focus upon for several personal reasons. After graduating with a bachelor's in psychology next spring, Reign will pursue a doctorate in the subject as one of the 2020 winners of the CSU Trustees' Award for Outstanding Achievement, bestowed upon California State University students who demonstrate superior academic performance, personal accomplishments and community service.
Now middle-aged, Reign sees those previous career turns not as false starts, but as stepping stones to earning a Ph.D.
"I've had ups and downs, and all of these life experiences brought me back to this one place," he said. "I feel like I'm going through a full circle."
Reign began his higher education at Southwestern College in 2011 and came to SDSU as a transfer in fall 2018. At 45, he's gotten used to being the oldest student in the classroom. "It was funny every time," he said, noting that on many occasions he was only slightly younger — or even slightly older — than the course professor.
He already has research experience. In assistant professor's Eileen Moore's lab, Reign assisted with research on the effects of alcohol exposure on brain development. Reign worked with mice, protecting his hands against bites from his sometimes uncooperative subjects with triple layers of gloves.
Opening Doors
A key turning point in his career direction came when Reign was invited into the university's Maximizing Access to Research Careers (MARC) program, designed to prepare a diverse pool of undergraduates into advanced degree programs in science."The program has opened up so many doors for me," he said. "All the people in this program completely have my back."
Cathie Atkins, principal investigator/director of the MARC program and a professor in the College of Sciences, nominated Reign for the trustee award. "I am impressed by his continued growth in research sophistication," Atkins wrote, "and know this is because he holds high expectations for himself, seeks challenging opportunities and follows through on them."
One such example came as a young adult, while Reign was pursuing a recording career and already had four albums under his belt. He saw a newspaper ad for jobs at a Hughes Aircraft facility and applied on a whim, fascinated by the work he saw being done. Reign got an offer to start there the same day — he said the Black supervisor wanted some diversity in a then nearly all-white crew — and found himself assisting the NASA contractor in building satellites and payloads.
Reign joined the U.S. Navy after his Hughes job. Serving on the aircraft carrier USS Carl Vinson, Reign was part of the humanitarian and disaster relief effort in Haiti following the catastrophic 7.0-magnitude earthquake in January 2010. Amid the devastation and rubble Reign noticed a great deal of dizziness and confusion among people struck by falling objects. "When we were trying to listen to speech it wasn't really coherent," he recalled. "People didn't really understand what happened."
Reign was honorably discharged from the Navy with service-connected Disabled Veteran status due to post-traumatic stress disorder, adding yet another life experience to his interest in the mind. Later, during his time as a student at Southwestern College, a tragic experience that left his younger sister with memory loss also contributed to his interest in the subject.
Reign ultimately transferred to SDSU to complete his education, serving as president of the Transfer Student Outreach Alliance and as vice president of two honor societies, Tau Sigma and Sigma Alpha Lambda.
CSU Honor
Reign is a Trustee Emeritus Murray L. Galinson Scholar, named for the San Diego philanthropist, business leader and political figure who died in 2013. The award carries an $8,000 scholarship; all the honorees will be recognized at the Sept. 22 online board meeting. Reign also was named one of SDSU's eight Sally Casanova Scholars, another CSU award for predoctoral students.
"The intersection of Deva Reign's life and schooling experiences truly exemplifies the unique pathways towards student success," said J. Luke Wood, vice president of student affairs and campus diversity. "Also as a Sally Casanova scholarship recipient myself, I understand the legacy of diversity and excellence he has and continues to uphold."
Reign said he wants to remain in the academic realm after he completes his clinical neuropsychology doctorate. He would be a third-generation teacher in his family, he said, following his mother and grandmother. "So teaching is just something that may naturally just be in my blood," he said.
After experiencing firsthand the value of a committed mentor, Reign wants to do the same for members of a younger generation facing the same challenges to fit in that he did.
"I want to be that individual that you can actually connect to, and someone who inspires you to learn," Reign said. "Someone who inspires you to go forward."