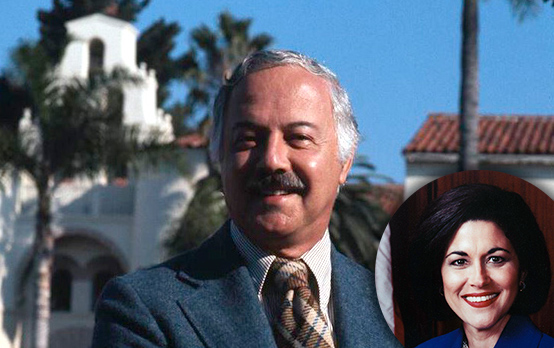 An endowment to support graduate research in chemistry honors the legacy of SDSU President Brage Golding.
By Ryan Schuler
As president of San Diego State University from 1972 to 1977, Brage Golding is often remembered for his love of conversing with students. It was noted he would often sit on the campus lawn or stop on his walks through campus to chat with students.
"What I remember my dad talking about the most was the students," said Susan Golding, Brage's daughter and mayor of San Diego from 1992 to 2000. "He loved walking through campus and stopping to talk to students. He loved discussing what they were interested in. He loved inspiring students and knew that's where it really counted."
Brage Golding, the fifth president of SDSU, passed away in 2016 at age 96. But his passion for students lives on in his legacy through the Brage Golding and Susan Golding Research Endowment, which will provide support for graduate research in chemistry, specifically for graduate students engaged in the SDSU-University of California San Diego joint doctoral program in chemistry.
"The credit for this endowment goes to my father," said Golding. "His first priority was always students, and that was the most important thing to him."
A chemical engineer by training, Brage Golding received his doctorate in chemical engineering from Purdue University, where in 1959 he became a professor and head of the School of Chemical Engineering. It was through his graduate and doctoral research that her father "got his start," said Golding.
Appointed during the year the institution transitioned to a university from San Diego State College, Golding is credited with strengthening research prowess through the hiring of new faculty, especially in science and engineering, raising performance standards and emphasizing on research scholarships and publications regarding promotion and tenure requirements.
"Graduate research and the advancement of science were always extremely important to him," said Golding. "He believed in the ability of both science and engineering to solve problems. He understood what the failings could be, but he always knew what the benefits were. (The endowment is) to honor him and hopefully do what he would do if he were still alive."
Brage's vision for research and graduate education at the university was one of the reasons he was drawn to SDSU, said Golding. "He was interested in where the university was at the time and where he thought it could go," she added. "It was during his administration that it became a university. He felt research at the graduate level was critical to that."
The former mayor hopes the endowment will continue to grow, providing needed assistance for graduate students hoping to solve the world's greatest challenges.
"I know what a difference it makes in someone's life," she said. "This is an opportunity to ensure my dad's most important interests would be honored. I'm hoping the students who receive help from this are able to accomplish their goals. Hopefully their goals, through science and research, will solve major problems, save lives and help the environment."
"The credit for this endowment goes to my father. His first priority was always students, and that was the most important thing to him."