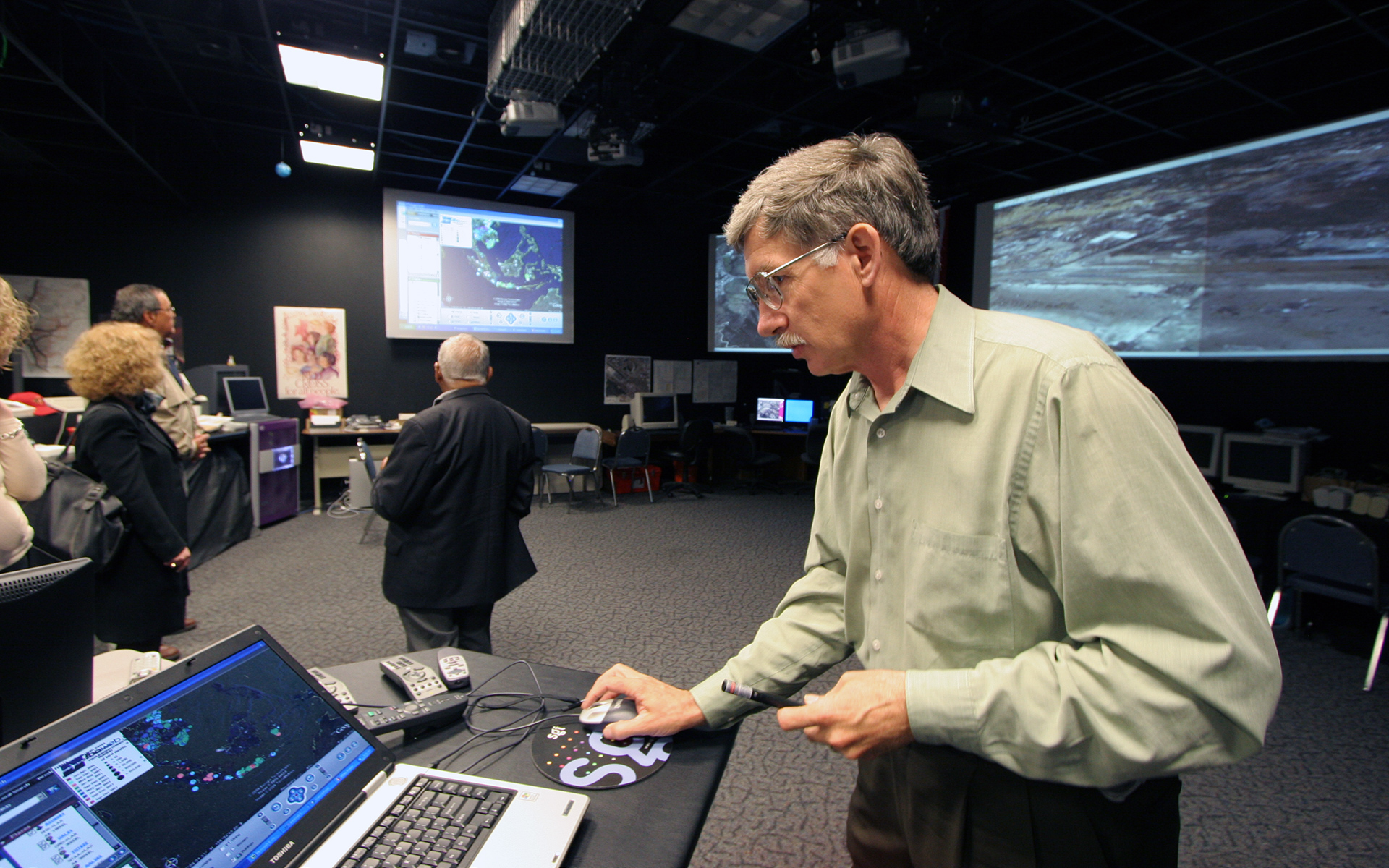 By Emily Resnick
Dr. Eric Frost was recently celebrated for completing 40 years at San Diego State. He received a special award from the dean of Sciences for his outstanding career and accomplishments over the past 40 years. When asked about his milestone of 40 years, Frost said, "It's unusual for people to work for 40 years because most people are looking forward to retiring, which is quite the opposite of what I am doing, it is so rewarding to work with these students, and it brings me great joy".
Dr. Frost is the founder and Co-Director of San Diego's State Graduate Program in Homeland Security. However, that is just a small part of his impressive resume. Dr. Frost is also the Director of the SDSU Visualization Center and other centers now folded into the Viz Center that have been focused on wildfires, US-Mexico border collaboration, and counter human trafficking.
Anyone who has met, spoken with, or taken a class of Dr. Frost's knows he is a one-of-a-kind person. He is highly devoted to his work, students, and helping the greater good of society. If you speak with him about his career history, it seems like he has done a little bit of everything. Although he has a long list of accomplishments and credentials, nothing seems to make Dr. Frost prouder than the success of his students. A quote he often uses describes his teaching philosophy perfectly, "One of the greatest compliments to a teacher is when their students surpass them." Frost specifically mentioned Dr. Lance Larson and Alberto Martinez, students in the first HSEC class at SDSU, as examples. When asked about his former student and now Co-Director, Dr. Lance Larson, Frost mentioned, "With leadership like Dr. Larson, it has made me realize that the program is already in really good hands and that I am doing this because I enjoy interacting with the students."
It is no surprise that when first asked about setting up an interview to talk about his award, Frost immediately made it clear he wanted to focus on the students of the program rather than himself. Working with HSEC students is especially gratifying to him because he knows many of these students will make a difference in communities. Frost quoted, "Having the privilege of working with homeland security students is dramatically attractive because they have such an impact on helping the community".
Dr. Frost is truly a selfless person, and it shows in his words and actions. His teaching style says it all. Frost's classes usually include many hands-on learning projects, guest speakers, intriguing class discussions, and a whole bunch of laughter. His appreciation for and dedication to his students never goes unnoticed. It is displayed as soon as you walk into the classroom—anyone who has had Dr. Frost, as a professor, knows they are a part of a small group of fortunate students.
There is no slowing down for Dr. Frost. This coming semester he will be teaching at both the SDSU main campus and the SDSU Imperial Valley campus, where HSEC will now be offered. "This has been a plan for the last 5 or 6 years, so it is very exciting", he said when talking about the program in Imperial Valley. This will be what Frost calls the "first brick" in extending the HSEC program, "To build a program, you have to lay the first brick."
When finally speaking a little about himself, Dr. Frost shared his enjoyment of building walls. He said he often shares this on the last day of a class. Frost explains when building a wall; you are always looking for the last brick. Once the wall is finished, "you have not just built brick, but you have created a monument of your creativity, and that lasts much longer than the wall, that is what I feel I have done here and impacted many people lives in many different ways".
The impact Dr. Eric Frost has made on the university, his past and present students, and the Southern California community is immeasurable. His hard work and dedication have not gone unnoticed, and the San Diego State community proudly celebrates him.