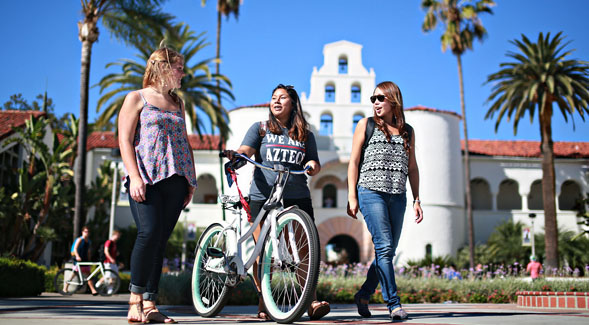 The National Institutes of Health award is one of the largest in university history.
By Kellie Woodhouse
San Diego State University has received a $19.9 million award—one of the largest in university history—to create a new center for transdisciplinary research on health disparities throughout San Diego and Imperial counties.
The SDSU HealthLINK Center will build collaborative partnerships between the university and community health entities and dramatically enhance research infrastructure at the university, bolstering critical health research and services and improving the well-being of the region's most underserved populations.
The center brings together more than two dozen faculty engaged in the high-impact, community-centered and cross-disciplinary collaborations that are key to the university's growing research enterprise.
The award is the largest National Institutes of Health grant ever awarded to SDSU, and the second largest grant in university history behind only the $30 million federal grant SDSU received in 2014 to establish a campus in the country of Georgia.
"This a wonderful recognition of the faculty's excellence in health disparities research, and a significant opportunity to build on that excellence so that SDSU can remain a leader in this field for years to come," said Stephen Welter, SDSU's vice president for research.
The five-year award is part of an effort by NIH's National Institute on Minority Health and Health Disparities (NIMHD) to support the research enterprise of minority-serving institutions like SDSU. The university is a federally designated Hispanic-serving institution, and 31.5 percent of first-year students are underrepresented minorities.
Public health professor Guadalupe X. Ayala and psychology associate professor Kristen J. Wells are leading the project, which promises to be an economic driver for the region.
Coupled with a $10 million endowment from NIMHD in 2016, the new award will vastly improve resources available to researchers at SDSU, particularly those in health, technology, and biomedical fields.
The SDSU HealthLINK Center strengthens relationships with key healthcare and public health organizations in the San Diego region, including the County of San Diego Health and Human Services Agency and two federally qualified health centers, Clínicas de Salud del Pueblo, Inc. and Family Health Centers of San Diego.
Partner organizations will work closely with SDSU researchers to identify the most effective ways of applying research to real-world practice, such as leveraging data to improve how healthcare and other services are delivered to those most in need.
The award also provides new funding for health-related research projects.
Research teams within the center will include experienced investigators and early career scientists, part of a strategic effort to ensure the next generation of scientists is prepared to embark on critical health-related research.
One study, led by biologist Carrie House and biochemist Tom Huxford, investigates the role of weight in drug resistance in ovarian cancer patients. House joined the faculty at SDSU this summer after working as a scientist for NIH, and her early affiliation with the SDSU HealthLINK Center researchers has already led to key collaborations.
"Because Dr. Huxford and I are working together across disciplines, we are elevating and expanding our research," House said. "And the guidance of a longtime SDSU researcher has been pivotal in learning the ropes and setting up my lab."
To further support post-doctoral fellows and early career scientists, the award establishes annual seed funding. Each year, four awardees will receive between $30,000 and $50,000 to support a pilot project.
The bulk of the NIH funding will go to build the university's research capacity by creating core facilities and resources open to all SDSU researchers.
One such core facility is a $500,000 clinical research center with a biomedical lab and a physiology lab. The award funds key personnel—like phlebotomists and data managers—to support research, and creates repositories of critical information, like study results and faculty expertise.