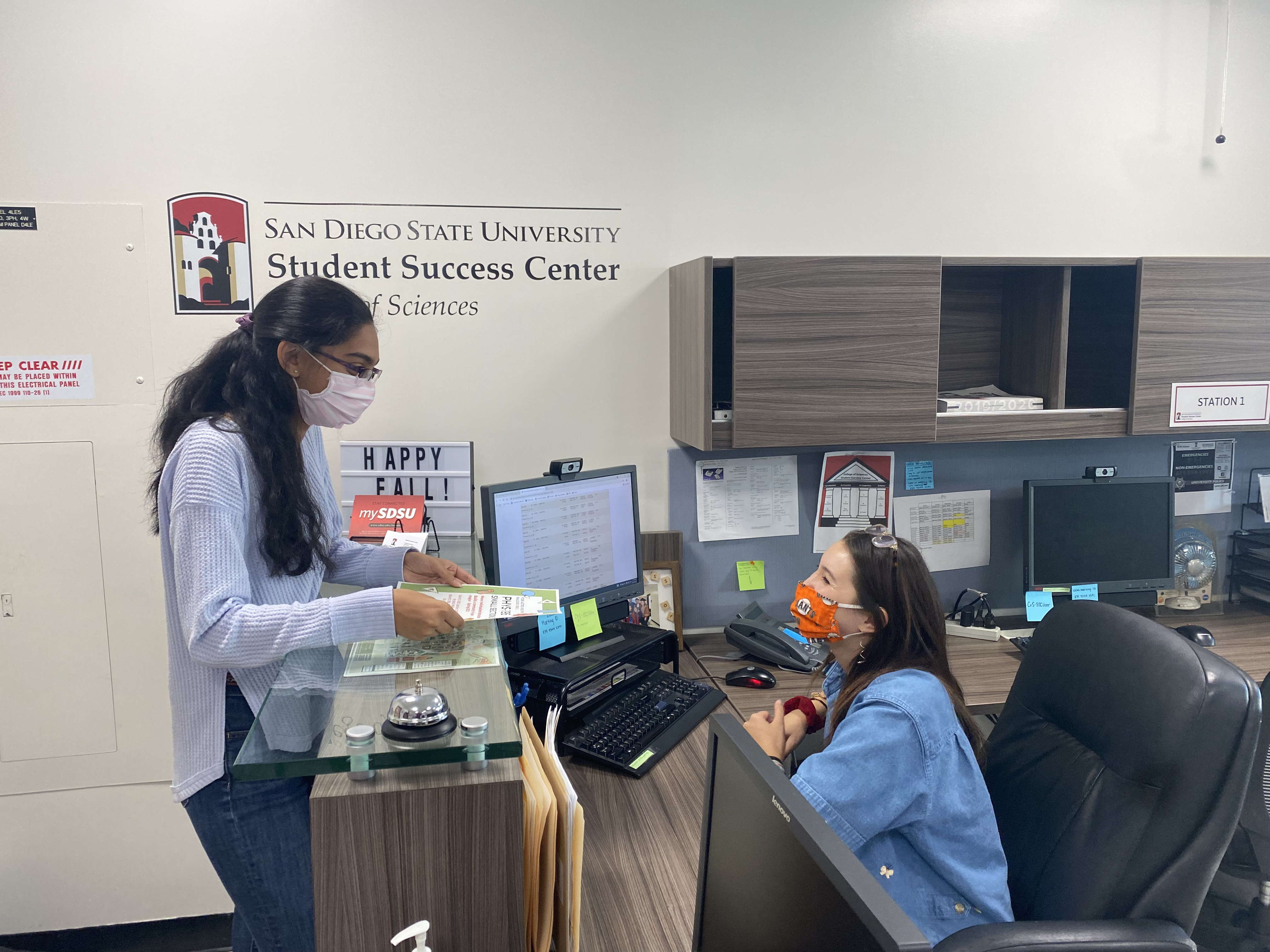 Focused on research and mentorship, the project supports Latinx students as they graduate and begin their careers.
By Lainie Fraser
San Diego State University, in partnership with Southwestern College and San Diego City College, has launched a project to increase the number of Latinx and low-income students successfully transferring and attaining degrees in STEM fields.
SDSU's HSI STEM Pathways project is funded by a $3.8 million, five-year U.S. Department of Education grant and led by the university's Hispanic-Serving Institution and Regional Affairs office as well as the College of Sciences. The project will offer Latinx students working towards science, technology, engineering and math degrees a mentored, undergraduate research-centered pathway from community colleges through SDSU and on to careers in their fields.
This program will remove roadblocks for transfer students and their entry into the STEM pipeline and include undergraduate research experiences, enrichment activities, and multi-dimensional mentoring approaches. Additional enrichment opportunities and student academic support services will be provided at both the community colleges and SDSU to support and supplement clear transfer pathways for successful admission to SDSU's undergraduate STEM programs.
"We are excited that this grant from the Department of Education aligns so well with our respective institutional commitments to honoring our HSI designation," said Emilio Ulloa, associate chief diversity officer for HSI and regional affairs. "In particular this program will add additional support to address the Latinx STEM pipeline, by supporting transfer students and their faculty mentors along their pathway to a STEM education and career."
Improving Student Retention, Graduation
This project and the continued commitment to embodying what it means to be a HSI and serving Latinx students aligns with the university's strategic plan priority that calls for new entry points for access and excellence to bolster the region and the world.
All of the project activities and services are grounded in research and best practices for improving student engagement, persistence, retention and graduation in STEM fields.
"We have seen the importance and impact of exposing students to authentic research and STEM experiences, and this program will give them the opportunity to explore multiple STEM pathways to find the one that fits their interests and passions," said Stacy Ochoa, director of advising in the College of Sciences.
Through the STEM Pathways project students will participate in an entering research course at the community college level, several enrichment workshops, mentoring and applied STEM experiences that will help students obtain the knowledge and skills necessary to be successful in a career in STEM. In addition, SDSU will provide enhanced tutoring, counseling and student service programs designed to improve academic success and retention of our students.
Building on Existing Programs, Support
At Southwestern College in Chula Vista, this enhances and expands on the Mentored Pathways program that already exists and has been successfully supporting transfer students. Southwestern College has awarded more than $418,000 in scholarships to 50 students over the 2½ years of the grant. A number of students have successfully transferred to SDSU and a number of University of California campuses.
"The Mentored Pathways that Southwestern College STEM faculty have created for our students has not only created opportunities for our students to participate in many prestigious and highly competitive summer internships, but helped our very talented students be more competitive for transferring to San Diego State and other prestigious universities," said Southwestern College Superintendent and President Mark Sanchez. "Through Mentored Pathways, 50 Southwestern College students — who have found their passions in the sciences — are lighting the way for more students through this new grant."
At City College, STEM Pathways creates a brand new program and pathway for interested students and expands the opportunities available to Latinx students across San Diego County.
"I'm very excited for our San Diego City College low-income and Latinx students to embark on this timely and much-needed grant-funded program," said Leticia López, the college's acting dean of mathematics, sciences, and nursing education. "We will be able to provide our students with STEM workshops and research experiences led by a stellar team of City College and San Diego State University mentors and faculty. This collaborative grant is intended to help our students obtain the skills necessary to be successful in a STEM career."